By Janie Southard
jsouthard@dailystandard.com
GREENVILLE -- Roger Cunningham gently tends a skillet of apple slices stewing in butter, brown sugar and cinnamon as his two classmates sit around the cooking counter enjoying coffee and the heady aroma of the apples.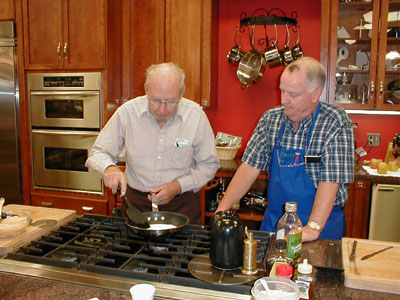 Cunningham, Harold Oda and Bob Byrum are three of about a dozen participants in the Cooking School for Widowers, developed by Chaplain Eric Fee of State of the Heart Home Health & Hospice and the Kitchenaid Experience Center.
The classes have been running since mid-April under the guidance and genial prodding provided by Darke County cooking expert Bob Marchal, who has diverse cooking experience.
"I learned to cook from watching my grandmother and later from Boy Scouts. Later I was a bush cook in Alaska for about six months," Marchal told The Daily Standard earlier this week at the state-of-the-art kitchen in the Kitchenaid Experience Center in Greenville, where he works as an instructor. "So, I know people do better when they're fed well."
The menu for this session is baked apples and quesadillas. Preparing the baked apples reminds class members of similar foods their wives or mothers used to make and gives rise to a discussion on the various types of apples. The quesadillas don't spawn many memories; however, Byrum, 86, shares that he's not opposed to having an occasional lunch at Taco Bell.
"This cooking class for widowers has exceeded all my hopes and expectations," said Fee on Tuesday afternoon via a telephone interview. "I thought three or four guys might come, and that would have been fine. But we started with eight and got up to 11."
Fee, who led a church congregation for almost seven years and is now the full-time hospice chaplain, and his wife came up with the cooking class while brainstorming ideas to get widowers socializing with each other.
"Our bereavement groups are 95 percent women, who are naturally more sharing with each other. The problem was getting the men together," Fee said.
In a nifty little turn on the old saying that suggests food as a way to a man's heart, the cooking classes were born.
Fee also pointed out that along with the loss of their life's partner, men often suffer frustration in taking over in the kitchen for perhaps the first time in their lives.
Oda of Arcanum is a good example of a nice guy adrift in the kitchen after the recent death of his second wife.
"I went right from my mother's house to my first marriage. My wife died and then I married again. So I only went to the kitchen to eat," Oda said, adding cooking for himself has been difficult because he didn't know the basics, like what do tbs. and tsp. stand for.
But, after five sessions, the men can whip up several dishes of comfort foods, basic stocks and tricks with leftovers.
Oda said his favorite so far has been mashed potato soup, one of Marchal's specialties.
It's made from leftover potatoes and it's easy, as is the recipe for basic beef stock, he said.
"One thing (the men) are kinda surprised to learn is that you can freeze things and make another whole meal or two," Marchal chuckled. "You know, it's actually pretty hard to make beef and noodles for one."
Phone: (419)586-2371, Fax: (419)586-6271
All content copyright 2004
The Standard Printing Company
P.O. Box 140, Celina, OH 45822