By Ryan Hines
rhines@dailystandard.com
Sports are often used as analogies for businesses, individual and team philosophies or even just everyday life in general.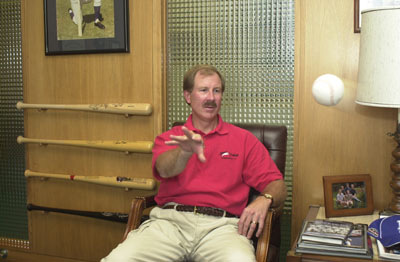 Celina Insurance Group has incorporated a baseball theme in many aspects of everyday operations and the president of the local business isn't shy when it comes to his love of baseball.
In fact, when someone walks into Bill Montgomery's office, his love of baseball cannot be ignored as memorabilia is clearly visible on display all over the room.
Montgomery will have a chance to do something that most of us can only dream about on May 24th when the Celina resident walks onto the field at the Great American Ball Park in Cincinnati to throw out the ceremonial first pitch.
"I'm a baseball nut and was never a great player, but my love of the game has never gone away," admitted Montgomery, who caught and pitched during his college baseball playing days at DePauw University. "I've been involved in baseball since I was five-years-old, played through high school and was fortunate enough to play four years of college baseball too, so baseball has pretty much been a part of my life, all of my life. Baseball is just my thing and I want to stay involved with the game as long as I can, in some way or another." Montgomery, along with his wife Suzanne and two of his sons, Mike and Scott, will be the Reds' special guests when the Houston Astros visit the Queen City for a series against Cincinnnati.
"The fact that I can bring my wife and two of my sons will make it that much more fun," said Montgomery, who has been a Reds fan all of his life. "I think that my sons could probably care less that I'm the one throwing the pitch, I think they're most excited about being on the Reds' field."
Although clearly excited about the opportunity, Montgomery admits there will certainly be nerves working overtime when he toes the rubber next Wednesday at 7:10 p.m., prior to game time.
"I try not to think about it too much, I'm hoping to not go out there and bounce one to the plate or trip over my shoelaces, or something embarrassing like that," joked Montgomery. "The ideal situation would be for me to throw the ball over the plate and the catcher catching it. My nightmare would be that I would slip or somehow throw it over the catcher's head. I hope that doesn't happen, but it could happen."
What started out as a goal during a business meeting with other company presidents months ago turned into reality when friends and associates pulled some strings for the avid baseball fan.
"I belong to a business group (Cincinnati Presidents Organization) in Cincinnati and at the beginning of the year, we were asked to write down our business goals, our family goals and some personal goals," said Montgomery. "One of my personal goals has always been to throw batting practice to a major league team or to throw out the first pitch at a major league game and when I wrote it down, the moderator of our group telling us to do this told me that there were enough guys in this group where they could get that goal accomplished for me. I'm a big believer in relationships and reaching out to people and this is one of those cases where I wrote down a goal kind of halfheartedly and then four months later I get a notice from the Reds about this opportunity."
After the ceremonial first pitch, Montgomery and the rest of his family will be sitting in the Western Southern companies box seats along with access to their luxury suite.
Phone: (419)586-2371, Fax: (419)586-6271
All content copyright 2004
The Standard Printing Company
P.O. Box 140, Celina, OH 45822