By Marc Tobias
mtobias@dailystandard.com
LIMA -- The Celina softball team suffered only its third defeat of the season on Wednesday afternoon at Bath High School, but unfortunately, this was the loss that knocked the number-five ranked Bulldogs out of the Division II tournament.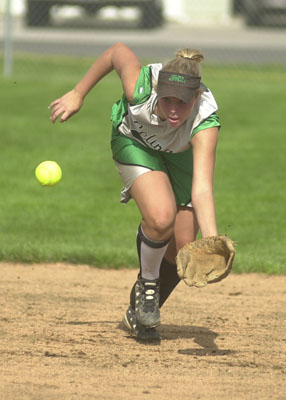 It was another classic battle between Celina and Bath who seemingly clash every year on the tournament trail.
Celina's Melanie Heyne and Bath's Hannah Rockhold had pitched their squads through nine scoreless innings, but in the 10th inning it was the Wildkittens scraping to get one run across for the 1-0 victory.
The Bulldogs had appeared to take a 1-0 lead of their own in the top half of the 10th when a Shay Adams suicide squeeze scored Julia Siefring from third base.
After Adams reached first base, though, the home plate umpire had ruled that Adams' bunt was foul thus sending Siefring back to third. "They said it hit the bat twice, hit the bat in fair territory making it a foul ball," said Celina coach John Hendricks.
Hendricks added he asked his players after the game if it did hit the bat twice and they confirmed the umpire made the correct call.
Adams then laid down another bunt, but this time, Siefring wasn't charging home leaving her at third base and when Bulldogs catcher Megan Harner grounded out to second base it allowed the Wildkittens to get out of the inning without giving up a run.
Bath then found itself in a similar position in the bottom of the 10th, and when the Wildkittens attempted a suicide squeeze the Bulldogs defended it perfectly and cut down the lead runner for the second out of the inning. Amy Simindinger, Bath's fastest player, did reach second on the play because of the run down on the squeeze play.
Bath's Amanda Houchin then came to the plate and hit a groundball to Celina third basemen Katie Kramer.
Kramer fired to first but Houchin was able to leg out an infield single. Meanwhile, Simindinger never slowed down from second and rounded third heading for home.
Celina first basemen Kinsey Schumann, then realizing Simindinger's attempt to score, threw home, but Simindinger was able to sneak under Harner's tag to score the winning run.
"She was going no matter what, we always try to stress to the kids to take two bases at a time especially in the situation like that," said Bath coach Laura Ford. "When we made that base-running mistake between third and home I was hoping that wouldn't come back to haunt us, because we had a lot of scoring opportunities where we made some mistakes on the bases."
"They did a very nice job the last inning. Amanda hits a tough pitch and we were trying to pitch away from her so she can't hit it because we know she's their best hitter and she gets the bat on it," Hendricks said. "It's a bang-bang play at first and a bang-bang play at home."
Unfortunately, what had been a very well-played game between two fierce rivals appeared to be tarnished a bit at the end.
"Really the most disappointing part of the game to me was at the end of the game when their fans started heckling our players and shouting cat calls at them, and I hope you put that in the paper because that shows absolutely no class at all," Hendricks said. "I've coached over 150 games here and I've never had fans heckle players. You have high school girls out here that have played their hearts out and executed.
"It's really a shame and unfortunate that the parents would act that way, not the players, the players were a class act but it was their parents," Hendricks added. "They were screaming it so we definitely could hear them. They're celebrating and we're upset and they're heckling us. You know how disappointing that parents of high school girls would act that way. But we wish them the best of luck."
As for the game, both pitchers had to be commended for their play. Heyne allowed just the single run on five hits for the game to go with six strikeouts.
Rockhold, meanwhile, will go down as the only pitcher to shutout Celina this season. The Bath starter allowed just three hits while striking out five and walking one after the Bulldogs touched her up for five runs in the Western Buckeye League contest between the two teams.
Jamie Siefker was the only Bulldog batter to have much success against Rockhold, as she finished with a 2-for-4 day at the plate with two stolen bases. Houchin was the only Wildcat to have a multi-hit game as she went 2-for-5.
Both teams were unable to capitalize on scoring opportunities earlier in the game.
Celina, most notably, missed on a delayed suicide in the second inning when a Jenna Schleucher bunt turned into a double play when Bath was able to gun down courtesy-runner Rachel Swain at the plate for the third out of the inning.
Bath, meanwhile, stranded nine runners in the first eight innings including seven runners that were in scoring position.
Celina falls to 24-3 on the year and finishes its season on Saturday when it hosts Wapakoneta at 1 p.m. in the WBL finale. Bath, meanwhile, moves to 18-8 and will battle Defiance in the district final.
"We're surprised, honestly. Bath is a little down this year and we didn't expect to get beat this early and not by Bath, but Hannah pitched a good game, and like I said, we didn't take advantage of our opportunity," Hendricks said. "People look at our team and our pitching, and our goal was to got to state and win a championship, but to get there you have to beat good teams and its not automatic.
"This is a team that for the next two years should win 25 games and contend for a state championship, but anytime you make a tournament run you have to beat good teams and tonight it didn't happen," Hendricks said.