The National Christian Collegiate Athletic Association national tourney is a four-day, double-elimination marathon that takes a toll on a pitching staff. In the past, coaches have often found themselves using non-pitchers on the mound as the tournament wears on.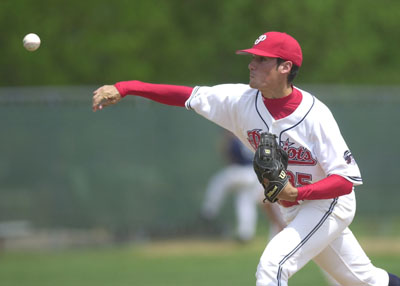 Mike Bard, coach of defending NCCAA champion Dallas Baptist, wasn't quite in that position, but he did call on reliever Stuart Sutherland to make his first start of the year in the championship game.
Sutherland, who hadn't gone more than four innings in any outing this year and whose last start came exactly one year ago when Bard needed to start the 2003 championship game, answered the call with a response heard clearly throughout Westview Park.
The sophomore righthander from Wichita Falls, Texas, fired a perfect game against sixth-seeded Palm Beach Atlantic to win a second straight NCCAA title with a 2-0 win. Sutherland went to three balls on only one batter, and while the defensive plays behind weren't entirely routine, there was really only one that stood out. That was the final out of the sixth inning when the Sailfish's Ariel Perez grounded to Patriots' first baseman Greg Lindsey, who flipped to Sutherland covering, just beating Perez to the bag.
"Obviously, when you throw a perfect game, things are going well," Bard said. "He just shoved the ball into the strike zone all day. We talked after the game that there was maybe only three pitches that didn't have a purpose. He just filled up the strike zone." Sutherland's gem overshadowed a fine performance by PBA starter Steven Zanfini, who scattered five singles and allowed just two runs, both of which scored following a sacrifice fly, the first on the flyball itself, the second on a throwing error following the catch.
"I've been coming in out of the bullpen all year," Sutherland said. "Set up, long relief, that's been my role this year. The longest I've gone has been four innings. This was the longest I've thrown this year."
It's extremely difficult, if not completely impossible, to not be aware of a potential no-hitter, or better, when you're throwing a perfect game. But, the Patriots had more than that going on. Sutherland had retired 18 consecutive batters and at that point, he was still locked in a scoreless duel with Zanfini.
"I think I may have realized in about the fourth inning that I had something going," Sutherland said. "I had to focus on the team and not dwell on anything else. We've had a lot of close games this year where our hitters have come through in late innings, and I had confidence they would again. We came here as a team and we won as a team, and (catcher) Ned (Yost) did a great job back there."
If someone has assured Palm Beach coach Mike Lord that he was going to get that kind of effort from Zanfini in a championship game with the wind blowing out to centerfield, he would have probably been the most optimistic man at Jim Hoess Field.
"I think the odds were against him (Zanfini) pitching five innings of shutout baseball," Lord said. "We faced a great team and Steve throws hard and works hard. He didn't take anything with him when he left the field. All of our guys have worked hard all year and we came into this knowing our backs were against the wall. Dallas was the top seed and we need two wins to take it all. We pitched two guys on two days rest and we left everything on the field. It took seven games for someone to finally takes us out. I'm proud of our guys."
The wind did produce some long fly balls off the Sailfish bats, but the Patriots' outfield of Ryan Olivo in left, Drew Holder in center and rightfielder Sean Burgess had enough range to run them down.
Dallas Baptist got its runs in the bottom of the sixth inning following inning-opening singles by Drew Noss and Cody Montgomery putting runners on first and second. Ben Zobrist laid down a sacrifice that moved both runners into scoring position. Lord elected to walk Holder, the 2003 tourney Most Valuable Player, to load the bases and set up a force anywhere. Olivo flied deep to left, scoring Noss, and Montgomery scored from second when the relay throw went awry.
"I was a little concerned because we hadn't been swinging the bats that well," Bard said. "We did what we needed to do to score runs. We had guys who made some adjustments and coach (Chris) Knabenshue and coach (Nate) Frieling did a lot there. We tell the kids you're going to bad, what's important is how long you're going to be bad. Baseball is a game of failure."
Sutherland was named the 2004 tournament Most Valuable Player for his championship-clinching outing.
"It's been a wonderful growth for Stuart," Bard said. "In the two years he's been with us, he's gone from a raw-boned country kid who had a great arm, but just couldn't reproduce his motion each time to where he can, and that's a credit to coach (Eric) Newman and coach (Jeremy) Kennedy, our pitching coaches, and to Stuart's willingness to be coached."
"We came in with a small staff," Lord said. "We were ready physically, everybody was healthy. I told them it's all hands on deck, all week, and they responded just like I knew they would."