By Marc Tobias
mtobias@dailystandard.com
ELIDA -- Coldwater, the state's fifth-ranked team, was one out away from seeing its season end in Saturday's Division III district final, but that's when the Cavaliers got a little postseason magic from Craig Wellman.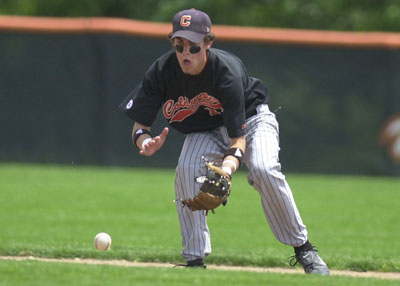 Wellman connected on the first pitch he saw from Patrick Henry starter Trent Meyer (7-2) in the bottom of the seventh inning and hit a home run down the left-field line that curled fair around the foul pole to tie the game at three apiece.
Then, four batters later Patriots reliever Mike Inselmann walked Tyler Schwieterman with the bases loaded to bring in Chad Geier with the winning run and a 4-3 victory over the ninth-ranked Patriots.
"Chills, the hairs on my arms stood up, it was amazing," said Coldwater coach Brian Haralmert about Wellman's blast in the seventh. "It was such a clutch hit, just a great baseball game again. We played these guys two years ago and it was tooth and nails."
Patrick Henry won the contest 2-0 two years ago, but Wellman's 2-for-4 day helped change the outcome this time around. "All I know is our whole dugout was bummed and I wanted to do anything I could, and all I was thinking was base hit to get something started, but I'll take that one," Wellman said with a laugh. "Every time I was up he threw me a first pitch change up and he was pretty much around the plate the whole day, so I was just thinking if it was going in there then I was going to take my best shot at it. I was happy to be right, it was a change up."
Geier followed Wellman's home run with a sharp single up the middle, and that's when Patrick Henry coach Greg Inselmann decided to give his starter the hook after 87 pitches.
Meyer had been very sharp, scattering nine hits to go with eight strikeouts and no walks. His only other major mistake besides the Wellman pitch was when he allowed a two-run home run to Dusty Ahrens in the bottom of the first inning.
"The only thing that made it (pitching change) tough was that Mike wasn't feeling well today," Greg Inselmann said. "He was struggling a little bit but we kept checking with him, and he's been very effective for us all year and he just didn't seem to have his location when he came out there. He's thrown so well for us all year, so it was (a tough decision), but we've used those two as our horses all year so we were going to give him a crack. Once they tied it up we knew Trent's pitch count and he'd been working his tail off. So I think it was the right move to make at the time but give them credit."
Mike Inselmann hit Dusty Ahrens on a 1-2 count to put Geier in scoring position at second base.
Trent Gerlach and Schwieterman then both received free passes when Mike Inselmann was only able to find two more strikes out of his next 10 pitches.
Schwieterman finished with a 2-for-3 day at the plate and also received the game-winning RBI with his walk that plated Geier.
"I think they left it on the field, there's a lot of hurting on this team right now," Greg Inselmann said. "When you get that close, you get within an out of moving on, it's just like someone tearing your heart out. It will take them a while to recover, but that's baseball, you learn those tough lessons like that. We'll hopefully bounce back and get another crack at it next year."
The late-inning heroics also allowed Steve Wenning to keep his pitching record perfect. Had the Cavaliers been unable to score in the bottom of the seventh, it would have proved to be Wenning's only loss of the season, but thanks to a pair of runs Wenning instead upped his record to a sparkling 13-0.
"Unbelievable, he's 13-0 now but he gave up three runs on basically a couple of hits," Haralmert said. "A little blooper and a big hit by Krauss and he almost lost the game on that, but Steve battled."
Wenning finished by allowing five hits while striking out seven and walking three.
Patrick Henry scored all three of its runs in the top of the third when Marc Krauss hit a two-run triple. He then scored on a Christ Tietje sacrifice fly. Krauss finished by going 2-for-3 with a run scored and two RBI.
Ahrens finished with a 1-for-3 day with a run scored and two RBI while Geier went 2-for-4 with two runs scored.
"They're the ones that believed when we started the season that we could do something, and we're not done yet," Haralmert said. "This is a big win, our district is very tough and our region is tough when you look at the polls and there's four or five teams in our region that are ranked that you have to go through.
"It's about tradition, it's about the past and we've been here before and all these guys knew and believed what that meant, and that was the key," Haralmert added.
The Cavaliers up their record to 25-3 while Patrick Henry ends its season at 23-5. Coldwater now moves on to Findlay High School where it will face face Bucyrus in the regional semifinal on Friday at 5 p.m.