By Ryan Hines
rhines@dailystandard.com
Sometimes a door being closed is a door open to a new opportunity.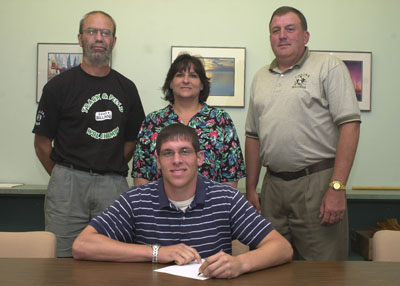 That's the case for Celina baseball standout Sean Boley as the Bulldogs' senior catcher is now the third Boley in the last four years to sign a Division I offer to play baseball for the University of Toledo, joining brothers Travis and Scott.
Despite earning Division I all-Ohio honors as a junior on the baseball diamond, Sean's focus was still clearly on obtaining a Division I college football scholarship offer.
When the fall sports season came and went, Sean was fielding offers from Division II and III colleges but when no Division I football scholarship offers came his way, he decided to make a change in his athletic goals and physical appearance.
"Once things didn't work out for me like I wanted in football, I started working harder to improve my baseball skills. Not getting the Division I offers for football was a little disappointing, but it worked out for the best in the end being able to play baseball at Toledo," explained Sean Boley, who also fielded offers from Butler, Findlay, Air Force and Indiana State. "To play Division I football, the colleges want you to be at 300 pounds as an offensive lineman and baseball wants you to be around 210 pounds so for me it was either put on 40 pounds for football or lose 40 pounds for baseball since I was at 260 during football season this year. " Of course, losing 40 pounds is easier said than done, but a strong work ethic is what made the possibility a reality for Celina's top offensive player.
"I lifted four days a week and everyday I ran at least three miles, I didn't eat junk food and just watched my diet," said Sean Boley, who is undecided as to what major he will select after holding a 3.65 grade point average and a top-30 ranking in his class academically. "Eating healthy and working hard helped me get to where I am right now (210 pounds)."
Having the ideal physique for a catcher is just part of what it took to get the Division I look that Sean was looking for, an incredible 2004 season is what made the Rockets the lucky suitors.
All Sean did this year is hit .523 (school record) with six home runs, 15 doubles (school record), 41 RBI, 35 runs scored and a .920 slugging percentage (school record). Sean also holds career school records in career batting average (.431) and career slugging percentage (.690).
As impressive as the offensive (Continued from page 1B)

numbers are, it's the improvement on defense that made Sean Boley a Division I prospect.
"Some of the college coaches that I talked to said that they had concerns about my defense as a catcher and just overall quickness behind the plate," admitted Sean Boley. "My offensive skills were there, but I knew that I had to work on my defensive skills and that was my focus during the winter and I think that I've made a 180-degree turn in the right direction. Last year I was sluggish and pretty much lazy. This year I tried to beat the batter down the line on ground balls and just try to improve in all the little things."
Coach and father Bruce Boley also noticed Sean's dedication to getting better on defense.
"Sean worked hard everyday, either in the CAPT building or just at home by deciding to take off running in the cold weather. His work ethic is second to none," said Bruce Boley. "Children services could probably come in and write me up for child abuse because of all the balls I threw at him in the dirt as he was working on his defensive skills. I would throw 100-125 or more in the dirt at him everyday so he could work on blocking the balls with his body. He just worked on the whole package of trying to be a better catcher. Sean was down to one shot if he wanted to play Division I sports and the spring was it. He had one season to prove himself and he did that. His work ethic showed he was on a mission and his mission resulted in an offer to Toledo."
With brothers Travis and Scott also playing for the Rockets, it will be a Boley family affair, something that doesn't seem to bother Sean.
"At first I had mixed emotions about playing at the same school as Travis and Scott, but now I'm pretty sure that Toledo is the right spot for me," admitted Sean Boley. "I have never been able to play with Travis (who played at Celina from 1998-2001) and I've played with Scott forever so I think that it will be a good experience."
"The thing that I want people to realize is that having two brothers already signed there had nothing to do with why Sean got an offer from Toledo," pointed out Bruce Boley, who played college baseball at Toledo's archrival, Bowling Green. "Sean got the offer because of the hard work that he put into improving his all-around game. In the fall, Toledo had very little, if any, interest in him and he just went out and earned this on his own. As a father, to have three kids playing baseball at that level is definitely a dream. They all bring different things to the table."
With a second-year head coach (Cory Mee) in charge of the Rockets program, there's optimism when it comes to possible playing time as a freshman.
"They have a junior catcher right now and a freshman (Dustin Sommer of Minster). The coaches told me that no positions are guaranteed and that I'll be able to compete for playing time," concluded Sean Boley. "I just want to be able to help the team in any way."