By Gary R. Rasberry
grasberry@dailystandard.com
MARIA STEIN -- Marion Local is single-handily stocking Ohio colleges with prime football talent.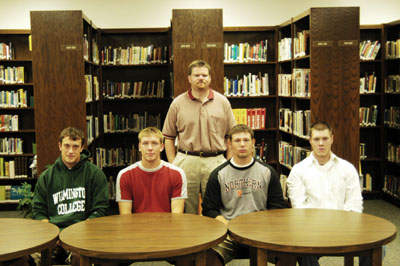 Four Flyers football players made their intentions known for future education and playing plans on Monday.
Three players, Brent Prenger, Eric Schroeder and Kyle Hartings will get to see each other every season as all three head to Ohio Athletic Conference schools. Schroeder and Prenger will head to Ada and Ohio Northern University. Hartings, will head south to Wilmington to play for the Quakers.
Another Flyer, Matt Prenger, will head south as well, going to Springfield next fall to play for the Division III Wittenberg Tigers.
All four were key players on one side of the ball or sometimes even both during the Flyers' state championship run of 2003. Schroeder and Brent Prenger will be entering a new era as Polar Bears next season. A new head coach, Dean Paul, takes over a program that had some rough times the past few seasons after being one of the best in the OAC.
"The coaching staff is pretty high class," said Schroeder. "They're getting a new stadium to go with the new coach, so I'll be on the same level with the players in the familiarity with the coach."
Schroeder got some help from former Flyers teammate Jason Schulte, who is a sophomore lineman for the Bears, in making his decision. Schroeder will also see some of the MAC players he's faced in high school on his team as well.
"Jason was helping me out," said Schroeder, who plans to major in technology. "Him being on the team didn't hurt."
Schroeder led the linebacking corps last season, recording a team-high 122 tackles with six sacks. His two fumble recoveries were also second-best of the team.
Brent Prenger was a key starter on the offensive line for the Flyers and saw time on defense. Like Schroeder, Prenger will play defense for the Polar Bears.
"They just built the James Dicke Center for education," said Prenger, who is currently undecided on what major to go into. "It's also close to home, which caught my eye."
Hartings joins a Wilmington team that already has one Flyers grad on the team -- that being former quarterback and now defensive back Chad Otte. Hartings knows the Quakers had a tough season last year while playing young players, but the future is bright.
"I talked to Chad after the football season to see if I can come down for a visit," said Hartings. "I know they struggled last season, but they played a lot of freshmen. They have a new coach and he wants to win bad. He's a defensive-minded coach. That program will get better."
Hartings was a strong defender last season, racking up 109 1/2 tackles and one interception.
One thing Hartings really likes is that since he will be playing defense, he won't have to face Schroeder or Prenger during games between the Bears and Quakers.
"I'm kind of glad that I don't have to face them," said Hartings with a smile. "I know how (good) they are."
Matt Prenger was a key on offense -- scoring four touchdowns as an end -- and defense -- leading the team with eight sacks, but it will be his special teams work that the Tigers will be looking for. Prenger was second in the Midwest Athletic Conference in punting during the regular season and averaged 37.7 yards per punt in 60 attempts. The Tigers went 8-2 last season and 4-2 in the North Coast Athletic Conference and are a regular participant in the NCAA Division III playoffs.
"They might, down the line, move me elsewhere," said Prenger, who is leaning towards an education degree. "I went down there and really liked the campus. I got to know the coaches and players very well. It's a good group of people to be around. The tradition there is a lot like we have here at Marion. To go from one tradition to another is a good way to go."
Marion coach Tim Goodwin is happy to see this group of seniors get the chance to move up, especially since most of this group only got to start in the senior season after several years of watching from the sidelines.
"I think our league has a reputation of having kids with strong work ethics," said Goodwin. "It's good kids to have in your program. The thing that sets them apart from others is that they put their time in and didn't really play a whole lot until their senior year. That's impressive with me, that they stuck with the program and worked hard. That's something they will have to do on the next level, so they're prepared."