By Gary R. Rasberry
grasberry@dailystandard.com
ST. MARYS -- Although having a successful tennis program over the years, St. Marys has not had too many chances to send players to the state level.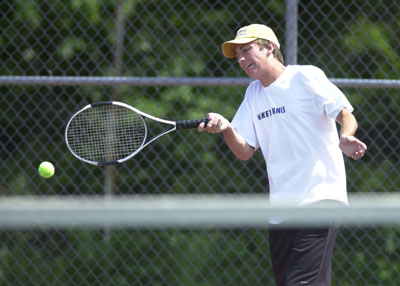 This year the stance changed as the Roughriders shared the Western Buckeye League tournament title and placed second overall to Ottawa-Glandorf. The tennis coaches around the state also took notice, ranking the Roughriders for much of the season.
One of the key players of the season is junior Jeremy Dominik, who looks to build onto a great season at the Division II state tennis tournament starting Friday at the Stickney Tennis Center on the campus of The Ohio State University.
So far, Dominik has been a success, winning a Western Buckeye League singles title, a sectional title, and this past weekend, the district tennis title at Port Clinton.
So far in 32 matches this season, Dominik is a spotless 32-0. The last time a Roughrider boy went to state was back in 1999 when Brazilian exchange-student Cristiano Borrelli placed third in the state at the tournament. Before that, according to coach Brice Brenneman, it has been awhile.
Now Dominik will look to battle some of the top players from the rest of the state.
"It's really exciting," said Dominik before he and the rest of the Roughriders competed in a state team tournament event with Huron. "I thought I had a chance to make it to state, but winning districts was just amazing."
"It hasn't quite hit me yet that I won WBL, sectional and district and still being unbeaten," said Dominik. "It's been an amazing year."
The Roughriders missed out on an outright league title, losing only to Ottawa-Glandorf during the regular season. Dominik was happy how he and the rest of the team played this season.
"The team season has been amazing. Our only loss was to O-G and we had a chance to beat them," said Dominik. "Being ranked fifth in the state, that feels very good."
Even with the success, Dominik is still amazed by his play.
"I had no idea going into the season I would be 32-0 right now," said Dominik. "I've played pretty well all year. I'm going to have fun. It's kinda of extra now, but it would be fun to do well."
Dominik is a serious tennis player, not only playing in the school season but also playing in USTA events.
"I try to play 2-3 days a week out of the high school season up at Orchard Hills, maybe two hours a day," said Dominik. "Then I jump ropes and lift weights."
As the top finisher at Port Clinton, Dominik gets to face the fourth-place player from the Cincinnati district. That means Dominik will face Luke Albi of Summit Country Day in the first round of the single-elimination tournament.
"I have played him before about 3-4 years ago in a USTA tournament," said Dominik. "So I kind of know how he plays."
Friday will mark the first time that Dominik will compete on the courts at Stickney Center and although he hopes to do well this weekend, there is a good feeling regardless. Dominik knows he can come back for his senior year and try again.
"I know I have that opportunity to come back," said Dominik."
Phone: (419)586-2371, Fax: (419)586-6271
All content copyright 2004
The Standard Printing Company
P.O. Box 140, Celina, OH 45822