By Bruce Monnin
bmonnin@dailystandard.com
PIQUA -- There are two goals at the regional track meet.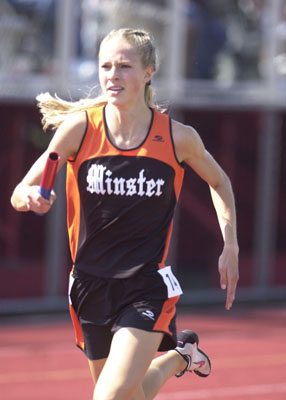 The first goal is to place in the top four and advance to next Friday's state track meet in Columbus.
MAC track fans will be quite busy next weekend, as MAC athletes qualified for state competition in 40 of the 44 events run, and a MAC athlete just missed out by finishing in fifth place in the other four events.
In all, 76 MAC athletes will converge on Jesse Owens Stadium in Columbus next weekend.
The other goal is to contend for the team championship. The Minster girls took their next step towards obtaining their fourth consecutive state championship by scoring 30 points higher than runner-up Cincinnati Country Day. Meanwhile, the top three on the boys' side mirrored the district results, with New Bremen narrowly topping second place Marion Local and third place Minster, though the sprinter heavy team from Dayton Jefferson was also to play a role in the dramatic finish.
Late in the meet, New Bremen held the lead with 53 points, followed by Marion Local with 451Ú2 and Dayton Jefferson with 29. Dayton Jefferson was expected to sweep the top two spots in the 200 dash, but New Knoxville's Tom Weist scored a surprising second place to keep Jefferson 10 points behind New Bremen going into the last event. The Jefferson 1,600 relay team was also expected to win to tie the Cardinals for the top overall spot, but they were nipped at the wire and New Bremen had the team victory. The Jefferson runner was so upset he threw the baton and his team was disqualified.
The resulting zero points in the event moved Marion Local up to second place and Minster up to third. A surprised Flyer squad had to be recalled from their bus to return to the track and collect their second place trophy.
New Bremen was paced by Troy Lammers' wins in the 110 and 300 hurdles, but also received points from the rest of the team (advancing eight boys in five events to state) to win their first ever regional track championship.
"I'm a little at a loss for words right now," commented a joyous New Bremen coach Gary Jones. "Troy got the big points that we needed him to, but the key was that everybody who ran today medaled. Every single point makes a difference in a meet like this. The shot putters (second place Marcus Overman and fourth place Jeff Thobe) came through big. They all stepped up and I'm very proud of them and I'm sure our community is proud of them too."
Anna Schlater will be joining her Cardinal schoolmates at state as she qualified fourth in the discus.
For the girls, the outcome was never in doubt as Minster had a fantastic meet, scoring 100 points while qualifying 11 different girls to state in eight different events. Leading the way was Sunni Olding, whose day started with setting a new state record mark of 4:49.74 in the 1,600 run, then she scored a convincing victory in the 3,200 run before finishing in the next event by anchoring the winning 1,600 relay team.
Sunni had previously set the 1,600 meter state record at Piqua in last year's regionals.
(Continued from page 6)

"It's a nice track, a nice facility, they run a great meet," explained Olding. "It kind of surprised me, but I've been waiting for that race, and I just felt good and ran a good time."
The 1,600 relay is a relatively new event for Olding, and following so closely after the 3,200 run, one wonders if she has sufficient time to recover.
"I guess there's enough time," continued Olding. "I'm still loose enough. I'm willing to do anything for the team, and we're chasing after our fourth state title so it's worth it to me."
Wildcat coach Kristen Heitkamp had plenty of praise for her entire team.
"Jenna Fausey set her PR by almost seven seconds today in the 3,200. Brigette Sherman set her best time in the 800. Those freshman came through today. Kacie (Otting) was huge in the hurdles. And Sunni did what we asked her to, which was to stay out in front of everybody."
The Minster boys will also be hitting Columbus in force, as they qualified 11 boys in six different events, including qualifying all four of their relay teams. A.J. Clune will be the busiest next week, as he was part of three of the advancing relays. Derrick Gates joined the group of relay runners with a third place finish in the shot put.
Marion Local will lead a balanced squad to Columbus, as they qualified both nine boys in six events and nine girls in six events.
"We had quite a few surprises and school records," summarized Flyer Coach Matt Schmackers. "Ryan Winner in the 1,600 and the guys 400 relay each finished second. Bridget Schmackers was a big surprise in the 100 hurdles, finishing fourth. Abby Schulte really ran well in the 100 and the 200. The girls 4x100 relay set a school record. We have quite a few people moving on."
Abby Schulte had an especially big day, setting a school record in the 100 dash, a personal record in the 200 dash, and helping the 400 relay team set a school record. Abby was especially pleased with her win in the 100 dash.
"I didn't expect it at all," state Schulte. "I knew I had really good competition and coach told me if I came strong out of the blocks I could catch her, and that's what I did."
St. Henry seemed to be involved in some of the more exciting races of the day. The 800 relay team of Lauren Weitzel, Jocelyn DeMange, Catie Evers and Elaine Ranly qualified for state by finishing fourth in a race where the judges had to go to the photo before determining that Minster had edged them out of third place. Jon Hemmelgarn followed with a fourth place finish in the 400 dash, with an inspired late charge that got him past the fifth place runner from Dayton Jefferson.
One last area team to qualify for the state meet on the boys side was the Parkway 400 relay team who finished in fourth. Travis Vian, Jason Deitsch and Dallas Agner now get to accompany Brandon Bowen to Columbus, as Brandon advanced in the long jump on Wednesday.