By Timothy Cox
tcox@dailystandard.com
With the dedication of the new World War II monument in Washington, D.C., during the weekend, America's "greatest generation" was on the minds of many during Memorial Day observances held throughout the Grand Lake St. Marys area.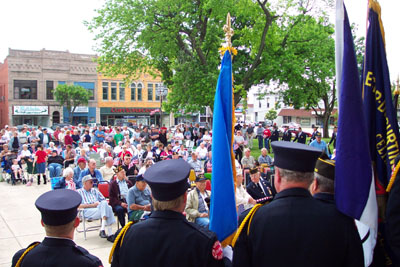 "It's about time we got a memorial to recognize those heroes," the Rev. Peter Calvert said during services in Mendon early Monday morning.
Calvert, of Mendon, recounted for the crowd that gathered in the morning drizzle his recent trip to the nation's capital, where he visited the new memorial that covers more than seven acres on the National Mall. He invoked the words inscribed on the marble memorial: "Here in the presence of Washington and Lincoln ... we honor those 20th century Americans who took up the struggle ..."
During services at the Mercer County Courthouse in Celina, county veterans services officer Tom Risch praised the men and women who served during WWII. The Celina services were specifically dedicated to WWII and veterans of the current war on terrorism. More than two dozen WWII veterans attended the service.
"You men and women are our heroes," Risch told the honored guests. "You set the standard for our military. You changed the world." Bill Oberhaus, a U.S. Army veteran of the Vietnam war who was the keynote speaker in Celina, also talked about the WWII veterans.
"The price of freedom had risen drastically," when the United States was drawn into the war, said Oberhaus, of Delta. "They sent an entire generation to sacrifice their all for freedom."
Mort Ward of the Celina Veterans of Foreign Wars post called WWII "the most important event of the 20th century."
"For the greatest generation, it was one more requirement of citizenship," Ward said. "It was a generation that saved the world. It was a generation that got this nation back on track."
Ward called the dedication of the new memorial in Washington "long overdue, perhaps 40 or 50 years overdue," noting that 11 million of the 16 million men and women who served from 1941-45 are dead.
Phone: (419)586-2371, Fax: (419)586-6271
All content copyright 2004
The Standard Printing Company
P.O. Box 140, Celina, OH 45822