By Marc Tobias
mtobias@dailystandard.com
HUBER HEIGHTS -- Minster entered Saturday morning's game against North Lewisberg Triad one step away from making its second consecutive trip to Columbus for the state baseball championships.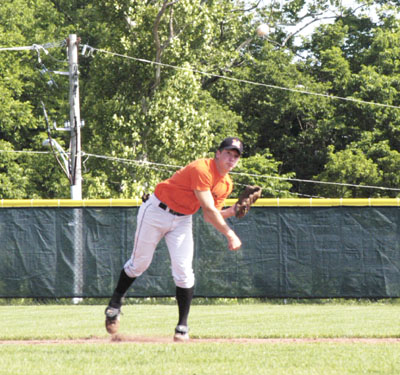 This time the Wildcats magical postseason run came up one game short, as the third-ranked Cardinals took home an 8-0 victory in the Division IV regional final at Wayne High School.
After two scoreless innings to start the game, Triad capitalized in a mistake-filled third inning by the Wildcats.
Minster committed four errors in the third inning, and along with a pair of home runs it quickly put Triad on top 6-0.
Dusty Ellis retired the first Cardinal batter on a pop out, but then walked two consecutive batters, including leadoff-hitter Matt Bailey. Bailey then stole third and when the throw spilled into leftfield it allowed Bailey to score for a 1-0 Triad lead.
Ellis then retired Tony Cushman on a fly to leftfield for the second out, but Triad's Cory Baker came up with a big two-run homer for a 3-0 lead.
"We took advantage of their mistakes, the dropped fly ball and then Cory comes back with a big hit, and for him to come back is great," said Triad coach Will Nichols. "Just a couple of big two-out hits, Cory Baker yesterday was 0-for-3 with three Ks, and today he comes out and hits a big bomb to really boost the morale."
An error and a single put two more Triad runners on base, which also prompted Minster coach Mike Wiss to bring in Justin Spillers to relieve Ellis on the mound.
Chuck Williams took Spillers' fourth pitch and put it over the leftfield wall for a commanding 6-0 lead. Williams finished 2-for-3 with a run scored and three RBI.
"We had two balls in foul territory that could have been caught to get us out of the inning, and things like that tend to accumulate," said Minster coach Mike Wiss. "We've played pretty darn good defense over the last two weeks, and that was the inning. More often than not when you lose a baseball game it occurs in one inning, and today it did. Cushman did a great job on the mound and I thought he really threw the ball well for Triad. They hit two long balls (home runs), but a lot of those things occurred because they got guys on base because of walks."
Triad tacked on two more runs, one in the fourth and one in the fifth for the 8-0 margin of victory.
Meanwhile, the Cardinals' Cody Cushman, along with some stellar defense, was able to keep the Wildcats bats silent.
Cushman picked up the complete game victory, as he allowed just six hits while striking out six and walking two.
"Yesterday when I scouted them they were trying to pull everything, so I told Cody today to put everything on that outside corner and make them hit it that way and that's what he did," Nichols said.
Whenever Minster did show signs of life for a rally, that's when the Cardinals' defense rose to the occasion.
"There were two big plays by the third baseman in that game, one was in the second inning when the ball came right at him and they turned the double play, and it might have been the following inning when Tim Cordonnier lined one at the third baseman and he caught it at the ground and doubled off Jon Kaylor at first," Wiss said. Those were two pretty big plays."
Bob Inskeep paced the Minster offense finishing 3-for-3 at the plate while fellow Wildcats teammate Jon Kaylor was 2-for-2.
"Over the last two years to be 40-17, that says a lot about the seniors you have and that says a lot about us trying to make baseball important in Minster," Wiss said. "I wish Triad some luck, today just wasn't our day and they made some plays."
Minster finishes its season at 20-9 while Triad improves to 29-5.