By Marc Tobias
mtobias@dailystandard.com
Marion Local's Cinderella softball tournament run continued over the weekend, and now the Flyers find themselves just two victories away from the ultimate prize.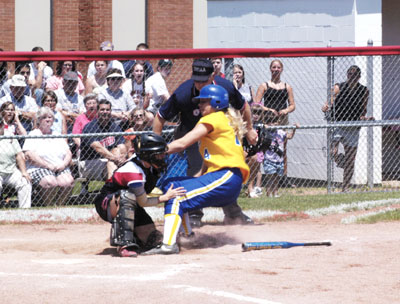 The first of those two steps will take place on Thursday at 10 a.m. in Ashland at Brookside Park when the Flyers (17-10) square off against Crestline (26-4) in the day's first state semifinal game.
A win would put the Flyers in the final on Saturday at 10 a.m. against the Gibsonburg (24-6) versus Strasburg Franklin (25-2) winner.
Once again Marion Local's opponent will boast, on paper, better statistical performances for the season, but that's nothing the Flyers haven't seen throughout their tournament run.
"Dana (Hartings) is going to school with a girl from Covington, and eight out of nine of those girls were batting over .400, so it's really become pretty standard," said Marion Local coach Gary Moeder, talking about the team the Flyers defeated in the regional finals to make it to the state tournament. Crestline's starting lineup has a team batting average of .379 with seven girls batting .373 or better.
Amanda Ronk leads the team at .490, and is one of three girls batting over .400. Ronk also leads a group of very fast players as she's stolen 29 bases in 31 attempts.
Dawn Collins, .446, also appears to be a threat on the base paths as she has swiped 11 bases while compiling a team-high eight triples and 38 RBI.
Both Ronk and Collins have 50 base hits on the season, and both need just one more to tie the school record for hits in a season.
What may separate the Bulldogs from most teams is probably their speed, as the 'Dogs have swiped over 90 bases on the season.
"Amanda Ronk is our leadoff and has excellent speed, but we have four or five girls that are very capable of stealing a base," said Crestline coach Heath Sager. "We really try to force the other team into making plays and hopefully making them commit a few mistakes."
The pitching match up will provide a pair of contrasting styles, as Marion Local's Dana Hartings is a power pitcher who has racked up 329 strikeouts in 161 innings of work.
Meanwhile, Crestline's Meghan Ronk will attempt to utilize what, so far this season, has been superior control that's shut down the opposition.
Besides the strikeouts, both pitchers have nearly identical statistics.
Hartings and Ronk have accumulated 16 wins on the season with Hartings having a 0.59 ERA with 25 walks allowed while Ronk has a 0.53 ERA with 16 walks issued.
"She's the Greg Maddux of our staff," said Sager of Ronk. "Her pitching is based on her being very smart, and Dawn (Collins) does a nice job behind the plate by setting up in the right places. Meghan has very good control and that's the key to her game."
Hartings, meanwhile, will lead the Flyers offensively as well as she's hitting .487 with a team-high 15 RBI and eight doubles, but Moeder said it's her defense that's been the biggest inspiration as of late.
"Her pitching has been great, but with her defense she's really helped us," Moeder said. "She drives me nuts with all the diving she's doing, but it's rubbed off to the rest of the team, and when the other girls see her jumping right back up and rubbing the dirt off they've started to do the same thing, and we've had some outstanding defensive plays the past few games."
Jennifer Rose (.361 avg.) and Megan Homan (.304 avg.) have also hit the ball well in the tournament run, but Moeder said it's his team's ability to get on base that's allowed them to get this far in their postseason run.
"Our on-base percentage is what has been big lately, we're finding ways to get on base," Moeder said. "Our batting average may not show it, but we're getting on with walks, errors and fielder's choices and then we're getting ourselves in position to score. That's what we've been doing really well the last two to three games."
The Division IV final is scheduled for Saturday at 10 a.m. There is no pre-sale for tickets and all tickets at the gate will be $7. Directions to Ashland's Brookside Park are as follows; Take I-75 to 30 North. Follow 30 North to Ohio 250. Take 250 into Ashland and 250 turns into Main Street. Follow Main Sreet to Parkside Drive and turn right on Parkside into Brookside Park.