By Ryan Hines
rhines@dailystandard.com
One of the most tradition-rich baseball programs in the state will go up against one of the more inexperienced state-level programs in Division III state semifinal action at Thurman Munson Stadium in Canton on Friday.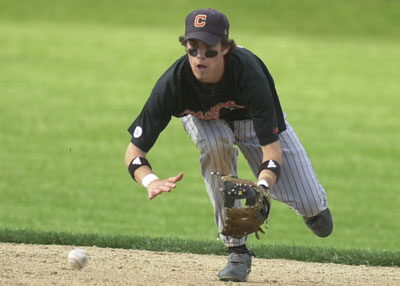 Coldwater (27-3) will take on Perry (25-5) at 1:30 p.m. following the other semifinal matchup between New Albany (16-12) and Barnesville (21-4), starting at 10 a.m.
Coldwater is no stranger to the state baseball tournament having already played in the final four on 16 different occasions and now tying Cincinnati Elder this year with the most trips in history to the state final four at 17 (regardless of Division), winning five state titles. Perry, on the other hand, has made just one previous trip to the final four, back in 1970.
"Our kids have played at a high level in the summer and I'm sure that we'll be a little jittery and I'm sure that everyone there will be too," said Perry head coach Mike Ryan, who is 349-243 in 23 years at the helm of the Vikings. "We're playing with a lot of confidence right now and we've peaked the last couple of weeks. I think that we're two similar teams just by looking at the stats."
"These guys may not have been to the state final four as players, but we (coaching staff) have been to six total state final four tournaments and have won five state titles, so I think that should help us in preparing the kids on what to expect and such at the state level," said Coldwater head coach Brian Harlamert. Despite the difference in experience, according to the state poll, the matchup between Coldwater and Perry should be evenly matched as the Cavaliers ended up fifth in the final state poll while Perry, winners of 13 of their last 14 games, finished in the seventh position.
The Vikings have been on a tear as of late outscoring their five postseason opponents 55-5, including four shutouts.
The Perry pitching staff is led by a pair of lefthanders in Mike Ryan and Jake New. Ryan Jr. (coach's son) is 10-2 on the year with a 2.21 ERA while Jake New is 7-1 with a 1.09 ERA. Jeremy Goldizen (6-2, 2.17 ERA), who throws near 90-mph, has also seen plenty of action on the hill for the Pirates, mostly as a closer.
"We're really fortunate to have those guys throwing like they're throwing right now," said coach Ryan. "We have a great group of senior leaders and they're throwing the best they have all season. What makes them even better is their supporting cast. our defense has pulled these guys out at times. That's why they call it a team game."
Offensively, Perry is loaded at the top four spots in the batting order.
Bret Billhardt, headed to Otterbein, is the lead-off hitter for Perry and is hitting .420 on the year with four home runs, 43 runs scored and 17 stolen bases. Ryan (Marietta College signee) follows (Continued from page 1B)

Billhardt in the order and is batting .407 with three home runs and 31 RBI. Hitting in the three-hole for the Vikings will be Goldizen (Marietta College signee) checking in with a .424 average to go along with nine home runs and 40 RBI. The leading hitter for Perry sits in the cleanup spot as New (St. Bonaventure signee) is batting a team-best .482 with a team-high 10 home runs and a team-high 44 RBI.
The top four hitters for Perry are all college signees and four-year starters while Goldizen is a possible Major League Baseball draftee as a catcher, getting looks from the New York Yankees and Boston Red Sox.
"We hope to keep our top four guys swinging the bats like they're swinging the bats right now," said coach Ryan. "Offense is contagious and confidence is contagious. The guys at the bottom of the order are getting better each game."
If Perry is going to reach the state finals for the first time in school history, it will have to do something that no one has been able to accomplish this season -- beat Coldwater ace Steve Wenning.
Wenning, an apparent lock for first-team All-Ohio honors, has been remarkable this season with a perfect 14-0 record to go along with a sparkling 0.88 ERA. Wenning has only given up 10 earned runs all season long while opponents are hitting just .111 against him with 83 strikeouts in 88 innings of work.
"We've heard that he has three good pitches and is around the plate, it's tough to be 14-0 and we have a lot of respect for him," said coach Ryan. "We don't know much about him but we play in one of the best Division I-II conferences in the state and we've won it three years in a row so we see the other teams top pitcher each time out. I would think that we've faced someone like him along the way."
While Wenning's numbers are sure to grab Perry's attention, the Pirates better make sure and not underestimate the abilities of the Coldwater offense as the Cavaliers are hitting near .380 on the season. The Cavaliers boast a lineup that has each starting players hitting over .308, including six individuals over the .350 mark.
"We have a lineup where we are solid one-through-nine and that makes us a dangerous offensive team," said Harlamert. "There's no easy out in this lineup."