By Marc Tobias
mtobias@dailystandard.com
ASHLAND -- Marion Local played inspired softball the past two weeks en route to the school's first berth in the Division IV state softball championships, but unfortunately for the Flyers their dream of winning it all fell two wins short with a 6-0 loss to Crestline in the state semifinal.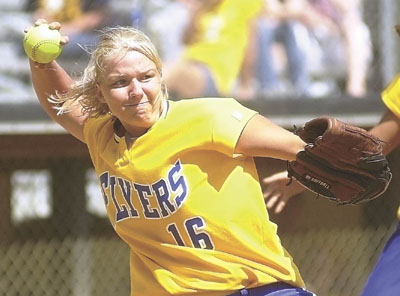 After playing near flawless baseball the past six games the Flyers luck changed against the Bulldogs as their six errors all but ended any chance at a victory.
Two errors in the first inning allowed Crestline to put one run on the board, and three more miscues in the third allowed four runs to touch home plate for a commanding 5-0 lead.
"We count on defense all the time, and last night we were really looking forward to this game. I think this morning when we got here our nerves started to set in a little bit," said Marion Local coach Gary Moeder. "For some of these girls it was the first time in a big game like this, but give Crestline a lot of credit. They're the only one to hit her (Dana Hartings) that well, they're a very disciplined team. Dana has very good control and I know she wasn't getting the calls on the change-up like she probably would have liked, but that's part of the ball game."
Hartings suffered the loss despite allowing just one unearned run and five hits. Crestline's Meghan Ronk meanwhile was extremely sharp and no-hit the Flyers with no walks allowed and nine strikeouts.
The no-hitter should probably have an asterisk beside it, though, as the official scoring of Jennifer Rose's at-bat in the second inning most likely should have been scored a hit.
Nonetheless, Ronk was sharp and only allowed two base hitters all day, and thanks to Dawn Collins picking both of those runners off, Ronk faced the minimum of 21 batters with a 64-pitch masterpiece.
"She outpitched the three-time pitcher of the year in MAC conference and I thought she hit her spots well. I think she had a little extra juice in the tank," (Continued from page 1B)

said Crestline coach Heath Sager. "She had nine strikeouts to I think Dana's six, and that's just outstanding. I believe this is her first no-hitter and what an outstanding time to get it."
Sager said getting a run across in the first inning was key.
Amanda Ronk and Collins led the game off by reaching on Flyers errors, and both then advanced on a double steal.
A Brittany Kick ground ball to the left side of the diamond then plated Amanda Ronk for a 1-0 lead.
"Our whole strategy coming in was to put the ball in play and not let her strike us out 15 or 16 times because that's not conducive to having a whole lot of base runners or being aggressive," Sager said.
"She's had games where she's struck out nine of the first 10, so we knew that the first inning and even though we didn't get a hit we put the ball in play and we did not strike out and that led to some nerves on their part maybe and some errors and we were able to get one across."
Amanda Ronk was the first runner on base in the four run third inning, and once again it was courtesy of an error.
She would later score on a Lauren Hoffer single, and after another single and a hit batter the Bulldogs had the bases loaded for Meghan Ronk.
Ronk hit a lasy fly to second base, but when it was dropped two runs scored, and then a throwing error on the same play to home plate allowed the third run to cross the plate.
The Bulldogs scored their final run in the fifth inning on a two-run double by Kick.
Kick finished with a 2-for-3 day with two RBI while Hoffer went 2-for-3 with a run scored and one RBI.
Marion Local caps its season with a 17-11 record while Crestline improves to 27-4.
"There were a lot of people that didn't expect to see us get here or said we couldn't get here," Moeder said. "The girls played hard all year, they've done an excellent job both offensively and defensively to get themselves where they need to be. It was one of those things today where everything added up on each other and we couldn't quite come through with it."
Area fans wishing to congratulate the Flyers on their season will have one last shot to do so, as Marion Local residents are having a welcome back party for the Flyers on Saturday at 6:15 p.m. in the high school gymnasium.
Phone: (419)586-2371, Fax: (419)586-6271
All content copyright 2004
The Standard Printing Company
P.O. Box 140, Celina, OH 45822