By Margie Wuebker
mwuebker@dailystandard.com
ST. MARYS -- Pauline Ruschau smiles proudly as she holds her ticket to independence -- a driver's license earned at the age of 75.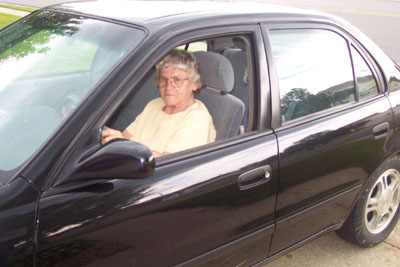 "This shows I did it," she proclaims. "I really did it."
Ruschau never felt the need to drive as a teenager growing up in the Coldwater area. As the second youngest of seven children, she had brothers who willingly assumed chauffeur duties. Later, she and husband Jim Ruschau set up housekeeping in Maria Stein.
"We had just the one car that Jim drove back and forth to Goodyear Tire & Rubber Co. in St. Marys," she says. "In later years, one of our four kids would pedal a bicycle across town to Charlie Heinl's grocery store if I needed something in a hurry."
From time to time her husband would say, "Pauline, you should learn to drive." However, he never pushed the issue. The decisive moment came following his death last November. As family members gathered for the funeral, a son remarked that he or his siblings needed to teach Mom how to drive.
"The thought kept gnawing at me," she says. "My children are wonderful, but I didn't want to rely on them to take me places."
She summoned up every ounce of courage and called an area driving school. The person on the other end of the line asked the usual questions -- "How old are you?" "Have you ever driven before?" -- and then inquired why on earth she wanted to learn at this stage of life.
Ruschau felt her courage evaporate during the brief conversation. A family member referred her to Bill Blumhorst, co-owner of Capabilities in St. Marys, that afternoon. He immediately recognized her interest and need.
A learner's permit came first, with Ruschau and grandson Adam Hirschfeld taking the written test at the same time. He finished two points ahead when the final scores were tallied.
"I've taught people in their 50s and 60s to drive, but Pauline is the oldest to date," Blumhorst says. "She had such a desire to learn. I've never hugged a student before, but I hugged her the day she took the driving test."
Ruschau had some qualms the day she climbed behind the steering wheel. After all, she had spent decades perfectly content in the passenger's seat.
"My stomach said 'No' but my head said 'Let's do it,'" she admits with a chuckle. "I had come this far and I wasn't about to chicken out."
She quickly settled down as Blumhorst explained how to adjust the mirrors, seat and steering wheel. Pulling from the driveway of her Greenville Road duplex went smoothly and soon Ruschau was sailing along Ohio 66 at 35 miles per hour. A long line of vehicles followed in her wake.
"We immediately headed for a quiet country road until Pauline got acclimated to traveling 55," Blumhorst recalls. "She did fine after that."
Meeting an oncoming 18-wheeler caused momentary concern en route home.
"I figured if I stayed on my half and he stayed on his half both of us would be OK," she said. "We both lived to drive again."
In late April, Blumhorst accompanied his star pupil to the driver's examination station in Sidney. He paced like a nervous father as she approached the maneuverability station.
"Bill told me to line up the flags in my mirrors before backing up," she says. "And that's just what I did. He gave me a thumbs-up sign as I finished. The rest of the test was a piece of cake."
Earlier this week Ruschau achieved another milestone -- learning to put gas in her Geo Prizm. Grandson Adam served as instructor and earned a free lunch in the process.
"I imagine Jim is sitting up in heaven telling the angels I finally did it," Ruschau says. "And it wasn't nearly as difficult as I imagined."
Phone: (419)586-2371, Fax: (419)586-6271
All content copyright 2004
The Standard Printing Company
P.O. Box 140, Celina, OH 45822