By Bruce Monnin
bmonnin@dailystandard.com
COLUMBUS -- As assistant OHSAA Commissioner Deborah Moore was presenting the Minster girls with their fourth consecutive state Division III track championship trophy, she stunned the crowd with the following statement, "This senior class of Minster girls has never lost a track meet since the seventh grade."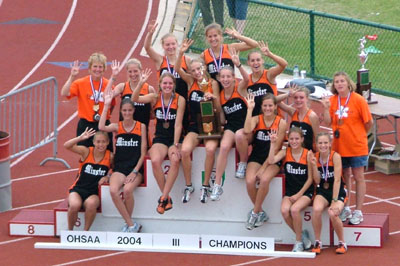 It was a solid performance in every event on the day that allowed the Lady Wildcats to win their 12th championship in the 30 years of the event. Their 47 points were 11 better than Gates Mills Hawken, which had to settle for the runners-up trophy for the fourth consecutive year.
The girls jumped out to the early lead in the team standings Friday with their win in the 3,200 meter relay.
As none of their main competitors for the team title had participants in the field events, Saturday afternoon's high jump offered an opportunity for the WIldcats to stretch their lead. Stacey Sudhoff missed out on the points with a 13th-place finish for clearing 5-0, but Amy Kremer matched her best performance of the season by clearing 5-5 and earning six more points for the team.
After finishing in a tie for eighth place the previous two years, Kremer was more of an experienced veteran this year. "My freshman and sophomore year I was so nervous. I would warm up way too much," remembered Kremer. "Since our 4x200 was disqualified yesterday, we couldn't score points in that event, so today I was thinking 'team sport.' My personal best this year is 5-5 so I'm glad I got it at state. I'm excited."
The team from Bedford St. Peter Chanel placed in the first three running events to overtake the Wildcats for the overall lead. Then came the big event of the day for Minster. Most eyes were on Sunni Olding as she dominated the 1,600-meter run with a time of 4:48.20, setting a new meet record in the process of claiming the championship of this event for the fourth year in a row.
But the real story was about 22 seconds behind, as Joanna Gruber finished fifth to snare an extra four points for the team, giving them a ten-point advantage over their closest competitors.
Gruber had finished fourth in the 1,600 run at the 2002 state meet, but did not make it to the state meet in 2003.
"I definitely wanted to get those points for the team. I had low iron last year, so it gave me even more incentive this year to come back," explained Gruber. "Especially with this being my senior year, I wanted to end it on a good note."
Gates Mills Hawken emerged as the Wildcats' main contender when Brook Turner finished second in the 100 dash, first in the 400 dash and second in the 200 dash. With Hawken expected to also win the 1,600-meter relay, the Wildcats needed another six points to gain the title.
But Minster still had two big events remaining. Olding pushed Minster back in front, running away from the field to win the 3,200-meter run with another state meet record time of 10:38.02. Once again, as all watched Olding winning the race, another Wildcat runner was gaining points for the team as Jenna Fausey finished in seventh place. Fausey gained four places in the last two laps to reach the podium.
"It was a good time, I think it beats my personal record by a couple of seconds," stated an extremely happy Fausey. "I just try to pick it up the last few laps and catch as many people as I can."
Minster coach Kristen Heitkamp noted Fausey's performance as her most pleasant surprise of the meet.
"Jenna was ranked 11th coming in and we kept telling her to get two more, get one more, get one more, and she did. Two points from her really helped out."
Minster entered the final event, the 1,600-meter relay, with a mathematical lock on the team championship. The team of Karen Brackman, Kristen Shenk, Allie Brown and Olding placed fourth to add the last five points to the Minster total.
Speaking for her teammates, Kristen Shenk admitted that they had heard people talking that they would win the team title no matter what happened in their race.
"But we don't think about that during the race, we just ran it the same," said Shenk. "We're trained to go out and run our very hardest no matter what."
The Minster coach knew that her team was the favorite at the start of the meet.
"We ran the numbers and we knew we looked to be the ones to come out on top, but this is state track and field and you never know what's going to happen," stated Heitkamp. "We saw things in different papers this week saying it was money in the bank, and it's never money in the bank. In some aspects that is pressure you don't want the kids to feel. We tried to convey to them that it was just another meet, and they got it done."
Heitkamp was full of praise for her senior class. Sunni Olding is the best known of the seniors but Heitkamp also noted the others.
"Joanna Gruber and Allie Brown have had a great year as has Kristen Shenk. Marie Bornhorst, she was an alternate for us, but she's always a very consistent runner. It's a very nice senior class."
Though other teams are happy to see Olding and the rest of this senior class graduate, Heitkamp was quick to point out that there is still a solid foundation returning.
"We had some girls come out this year, like Karen Brackman, a junior who we weren't sure would be out this year. She's made a huge contribution. Kacie Otting, who is a junior, had huge personal records the last couple of weeks. The freshman class is great and we have a sophomore class that's pretty strong as well, including Alyson Ahrns. In her first year out she made the state meet in the 4x200 relay. She didn't get to make any points (because of the disqualification in the semifinals), but she did well. And we have a strong freshman class coming in."
All of which means the Wildcats may not be prepared to give up their streak of state championships without a fight next year. But for now, they can be satisfied that they once again are atop the Division III girls track world.