By Bruce Monnin
bmonnin@dailystandard.com
COLUMBUS -- Sunni Olding has had an extremely accomplished high school career, so it only seemed fitting that in the last high school event of her career, she added even more championships and records to her resume.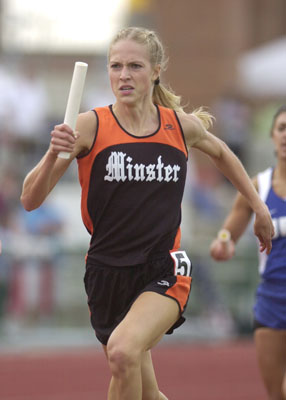 Olding began the weekend Friday by running the anchor leg on the winning Minster 3,200 relay team. She continued Saturday with wins in both the 1,600 and 3,200 meter runs, and ended the day running the anchor leg on the 1,600 relay team which finished fourth, providing more of the points needed to help the Lady Wildcats secure their fourth consecutive state title.
The team title was the seventh which Olding was a part of in her career (four track titles, the 2004 basketball title and the 2001 and 2002 cross country titles). The 3,200 relay title was her third, and her two more individual titles brought her total to nine (three cross country, four 1,600 meter run and two 3,200 meter run championships).
"I think right now it is not really in perspective," stated Olding. "I think a couple of years down the road I'll realize what we had here in Minster, how I truly can go out with no regrets."
The 1,600 meter run may have been the most anticipated. Her win in that event made her only the 11th different person to win the same individual event all four years of high school. And, when combined with Leslie Moorman pulling the quadruple in the 300 hurdles from 1986-1989, made Minster the first school to ever have two different individuals accomplish the feat. Earlier in the day during the Division I meet, Maggie Infeld of Cleveland Heights Beaumont set a new all division 1,600 record with a time of 4:47.79. Sunni ran a new Division III record of 4:48.20, just missing on Infeld's earlier mark.
"I knew what she had run. It was kind of in the back of my mind, but I just wanted to get the 10 points and the team title. I was very happy with the 4:48, it was my best time. It was a good way to go out."
Though Olding is always a heavy favorite in her races and had won the 1,600 the previous three years, her parents were still quite worried before the race.
"I get nervous every race," stated her father Kurt. " You have a little bit of a bad day and anything can happen."
Her mother Jackie (who finished second in the two mile run in 1977) also seems to get very nervous for each race.
"But I was the most comfortable this year," said Sunni's mother.
Sunni followed up her win with a new state meet record time of 10:38.02 in the 3,200 run. And finally, to end her career, she ran the final leg of the fourth place 1,600-meter relay team.
"It feels great to go out this way. It couldn't have been much better. I'll have lots of great memories," reminisced Olding. "It's been a great time and I've had so much fun, especially at this meet. I was really just out there enjoying myself. There weren't really many nerves, just a lot of fun.
"I guess you could say there is pressure, because of the fact that we are the three time defending state champions, and I was the defending champion in the 1,600 and the 3,200 runs. But overall, we just came out and did what we needed to do, supported each other and pulled it out," added Olding.
Wildcat coach Kristen Heitkamp was understandably complimentary of her star runner.
"She's a phenomenal girl. We're not going to come across one of those anytime soon. We're lucky to have one such phenom in our lifetime, and I don't think I'll probably ever see another one. She's amazing. Two state records today. Can you believe that?
"We didn't tell her she was going to be in that fourth event this year until regionals," added Heitkamp. "So I think being able to run in four events and doing the best she possibly could is everything she could ask for."