By Janie Southard
jsouthard@dailystandard.com
NEW BREMEN -- The annual picnic hosted by the New Bremen Historic Association got underway Sunday at the museum with the arrival of 21 pies, some still warm.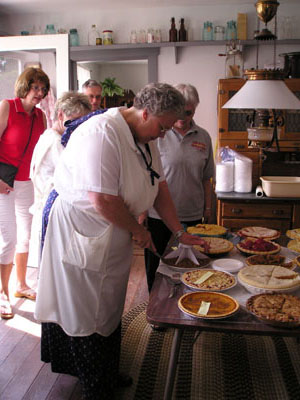 The second annual pie baking contest attracted a variety of golden pastry circles filled with cherries or strawberries or peaches, and some unusual combinations such as peach pecan or mulberry rhubarb.
Forks in hand, pie judges Dennis Dicke, Glen Whitten and Greg Myers, all members of the historic association, set up shop at a picnic table behind the museum on the porch of an outbuilding. The criteria was appearance, taste, effectiveness of the crust, or as Whitten quipped "crustworthyness."
As association member Delores Stienecker carried the small tasting samples to the judges from the museum kitchen she assured them "all the calories fell out when we cut the pies."
As they tasted, the judges remarked they had been in training for this day for many years and would likely go on training in the event they would be called upon in the future. At one point Dicke offered to take a few of the pies home "in order to study them more closely." The men remarked on the unusual pie filling combinations. When the first rhubarb combo appeared Whitten was surprised to see what he thought was a "red celery pie," which was a topic for conversation throughout the picnic.
While Dicke longed for a raisin pie, the other two judges did not. But the variety pleased everyone so much that there was a taste-off among four pies.
At last the winners determined the top three: first place, Sally Dicke with her cherry crunch pie; second, Rita Heitkamp with her mulberry rhubarb; and third to Susan Krieg with her peach pie. All prize winners are from New Bremen and their pies were auctioned off at the end of the day.
Krieg, her mother Marie Heitkamp of Versailles, and her two little girls were the only audience for the judging. She said she read about the contest only the day before and whipped up her entry Saturday afternoon while her little girls took their nap.
Phone: (419)586-2371, Fax: (419)586-6271
All content copyright 2004
The Standard Printing Company
P.O. Box 140, Celina, OH 45822