By Marc Tobias
mtobias@dailystandard.com
FORT RECOVERY -- It took a pair of rallies, but the Celina ACME baseball team was able to pick up its second win of the season by a 5-4 score over Fort Recovery.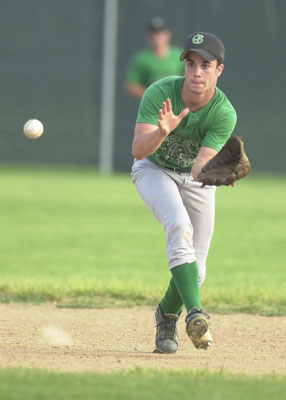 The Bulldogs had to overcome an early 2-0 deficit, and then a 4-3 deficit in the sixth inning before pulling out the win.
Jordan Hueker had the big blow in the sixth, with a two-out solo home run that tied the game at four runs apiece.
Jimmy Fishpaw then came off the bench with a pinch-hit single to start the top half of the seventh for Celina.
Cody Koesters, who started the game on the mound for Celina, came in to pinch run, and was sacrificed to second base by Joe Roberts. Koesters then scored the winning run when Fort Recovery second basemen Chris Galdeen could not field Garrett Gray's ground ball. In Galdeen's defense, the ball appeared to take a bad hop leading to the go-ahead run.
Eric Braun came in for the save for Celina and put the Indians down in order in the bottom half of the seventh to preserve the win for Andy Waesch.
Brad Fortkamp registered the loss despite throwing a complete game in which he allowed 11 hits with no walks issued.
"The Fortkamp kid pitched a really nice ball game, and we kind of had to scratch," said Celina coach Ron Fortkamp. "Andy came in and pitched three nice innings for us, but I'm not taking anything away from Fort Recovery, they played a really nice ball game. It's hard to count the one in the last inning as an error because of the bounce, that was blind luck, although they got one out there (outfield) on us too, but Fort Recovery played a super ball game."
Fort Recovery took an early two-run lead in the second when Steven Trabridge doubled and then scored on a Tony Diller double. Diller later scored on a passed ball.
Celina answered with three runs in the third with Garrett Gray driving in Nick Gray with a sacrifice fly, and Kyle Hawk and Hueker picking up RBI singles.
The Indians tied the game in the third with a Dusty Tobe RBI single that plated Greg Faller and took the lead in the fifth when Dan Heitkamp blasted a run-scoring double to right field.
"There's definitely some 'if's' in this one as far as a couple runners and mental mistakes we made in the field and on the basepaths," said Fort Recovery coach Brian Happy. "It's a tough part of the game, but it's going to happen. I can't say enough about Brad Fortkamp and his pitching. All night he was getting ahead in the count and I couldn't ask of anything better from him. I didn't expect him to go the whole game, but he said his arm was good and there was nobody else on this team that wanted it more than he did. Just wish we could have got him his win."
Hueker led Celina at the plate with a 2-for-3 day that saw him score a run and drive in two. Joe Roberts and Caleb Bryrley also finished with 2-for-3 days while Koesters went 1-for-2 with two runs scored in addition to pitching his first three innings of the ACME season to start the game.
Diller led the Indians with a 2-for-3 day with two runs scored and an RBI.
Celina improves to 2-3 and travels to Greenville today while Fort Recovery falls to 0-2 and travels to Parkway on Wednesday.
Phone: (419)586-2371, Fax: (419)586-6271
All content copyright 2004
The Standard Printing Company
P.O. Box 140, Celina, OH 45822