By Shelley Grieshop
sgrieshop@dailystandard.com
"Oh my gosh," was echoed countless times Tuesday as more than a hundred people of all ages got a glimpse of the three new eaglets nesting near Grand Lake St. Marys.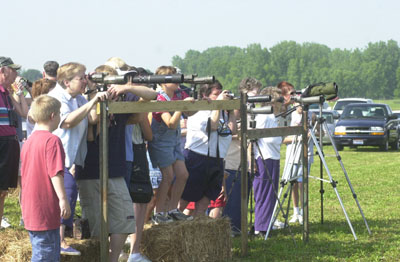 "It's just amazing that we're this close," remarked Leah Detmer of St. Marys, who came to the special viewing with her husband, Frank.
The Ohio Department of Natural Resources (ODNR) Division of Wildlife set up a row of spotting scopes at the Mercer Wildlife Area along Ohio 703, more than 200 yards away from the nest, to give the public a spectacular view and some expert knowledge about the new eaglets that hatched April 5.
Nine eaglets have been successfully hatched in Mercer County since 1995.
The Detmers, who live about seven miles from the bald eagles' nest, said their friends and relatives from Dayton are always asking about the eagles and their young. "We're so lucky to have this right here," Detmer added.
Jared Reier, 9, got a glimpse of an eaglet flapping its wings. His mouth dropped in awe.
"I didn't even know we had eagles here until about a week ago," said the Celina boy. "I thought I'd only see one in a zoo."
The 9-week-old eaglets, which ODNR officials said have baby fat and weigh about 10 to 12 pounds each -- the same as their parents -- should leave the nest for the first time about July 5. The eaglets likely will stay with their parents for another three months before venturing out on their own.
The biggest danger to the young birds right now is severe weather, which could destroy their nest. Recently three eaglets in Ohio did perish due to storms, ODNR officials noted.
This spring, 128 eaglets hatched in Ohio. That statistic is putting smiles on the faces of wildlife officials.
"The numbers were really declining before we started our restoration programs," explained Dave Kohler, a wildlife officer in Xenia.
In 1959, there were just 15 nesting pairs across the state. That number dropped to four by 1979, even though clean air legislation was passed seven years earlier, Kohler said.
"Eagle reproduction is a slow process. It takes about five years for an eaglet to reach adulthood and reproduce," he said.
Before environmental laws were passed, chemicals like dichloro-diphenyl-trichloro-ethane (DDT) were used as pesticides. The poison entered the water supply and became highly toxic in fish, the eagle's primary diet. Some eagles became sterile from the toxins or their egg shells so fragile they would crack during the 35-day incubation period.
DDT was banned in 1972 and legislation was passed to protect habitats and wetlands. Slowly the numbers began to increase, Kohler said. ODNR officials did a variety of things to help the large hunting birds make a comeback. One of the successful programs took eagles from zoos and placed them in nests that had previously failed.
Mary and Jim Sowar of Coldwater have followed the history of Mercer County's eagle population in The Daily Standard and were delighted at the chance to observe them in their own habitat.
"Every time we'd drive down (U.S.) 127, Jim would say, 'Can you see them?' " laughed Mary Sowar, 73. "Now here's a species that was nearly extinct at one time and we have the opportunity to watch them in their nest. This is great."
Officials are contemplating building an artificial nest near the lake, which could be safely observed by the public -- that is if an eagle pair chooses to nest in it. Currently, the best viewing area is at the refuge where the public is prohibited.
The nest used by the adult pair this spring is a former great blue heron nest located in the middle of a thick heron rookery.
Young heron cackled loudly as Robyn and Richard Moreland of Centerville shared a pair of binoculars for the event. The couple drove two hours to spy on the eaglets.
"We came because we've never seen an eagle in the wild like this," said Robyn Moreland. "Besides, it's a good excuse for us to come down to the lake and fish."