By Marc Tobias
mtobias@dailystandard.com
Despite leaving 17 runners on base, Portland took a 2-1 season series lead over Grand Lake with a 10-6 win at Jim Hoess Field on Tuesday night.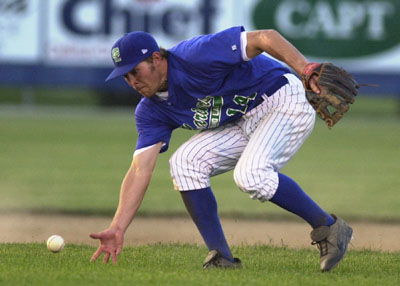 The Rockets made Celina graduate Greg Becker's return home a rough one, as they scored seven runs in the first two innings off the Mariners starter.
Portland had 13 hits for the game and drew nine walks while benefiting from five Mariners errors.
The biggest damage came in a five-run second inning that put Portland ahead 7-0.
Matt Cannizo hit a two-run home run for the first runs of the inning. Brandon Cooley, who finished 3-for-6 at the plate, then followed with a two-run double to leftfield and later was plated when Coldwater graduate Kurt Rammel hit an RBI double to leftfield. "We just had our first opportunity to play wood bat against these guys on Sunday, and we obviously played two close games 3-0 and 3-0, but I could tell in batting practice today our guys were starting to get the feel of the wood bat," said Portland manager Randy Miller. "We got on a roll and started to go rat-ta-tat-tat and the ball game was definitely going our way at 7-0."
Grand Lake chipped back with a run in the second before putting up four in the fourth to close the Portland lead to two runs.
The Mariners put their first two runners on base before getting the lead runner picked off when trying to advance to third on a passed ball.
Doug Kruthaupt, Phil Disher and Michael Bertrum then came up with consecutive singles to make it a 7-2 ball game.
The Mariners Jeff Warnock then might of had the best at-bat of the game, as he fought off eight pitches before dropping a two-run single into centerfield.
Warnock, who finished 2-for-4 with two runs scored and two RBI, was then driven home on a Billy Grace triple to cut the deficit to two runs.
"Greg did a good job, he just got a couple pitchers up in the zone and they scored a few runs on us early, but I was very proud of our team coming back and I think we got four runs in the second or third inning and made it a ball game," said Grand Lake manager Mike Stafford. "Adam Johnson came in and did a good job eating up some innings and keeping us in striking distance."
Johnson, a recent acquisition from Portland this past weekend, came in and pitched a strong 52/3 innings allowing three runs (one earned) on four hits and three walks while striking out six.
"His velocity was there, his curveball was a little deceiving because it's a little bit slower, but it kept their hitters off-balance and he kept us in the game," Stafford said.
The two runs Johnson allowed in the sixth were both unearned and extended the Portland lead to 9-5.
Portland tacked on one more run in the eighth while Grand Lake scored one in the ninth.
Coldwater graduate Kyle Heyne picked up the win for Portland when he came in to pitch three solid innings of middle relief. Heyne didn't allow a run and gave up just two hits while striking out four in his three innings of work.
Portland starter Matt Ousley left with a 7-5 lead, but his four innings of work didn't qualify him for the win.
"We're going to see these guys a few more times, and in years past they've beaten us like a drum, but the last couple of year's we've started to shore that up a little bit and I think we were 4-2 against wood bat competition last year and we go to Lima on Thursday where we'll get another test," Miller said.
Rammel and St. Henry graduate Phil Bruns each went 2-for-5 for Portland while Tommy Pearce added a 2-for-4 day.
Kruthaupt finished 2-for-4 with two runs scored and two stolen bases for Grand Lake while Hatfield added a 2-for-5 day at the plate.
Portland improves to 6-3 on the year while Grand Lake falls to 3-2. The Mariners return to action tonight at 7:15 p.m. when they host the Michigan Monarchs.
Phone: (419)586-2371, Fax: (419)586-6271
All content copyright 2004
The Standard Printing Company
P.O. Box 140, Celina, OH 45822