By Marc Tobias
mtobias@dailystandard.com
ST. MARYS -- A Mark Dieringer two-out single in the bottom of the seventh inning brought home Tom Burke to cap a three-run rally that gave St. Marys a 3-2 win over Celina in ACME baseball on Wednesday.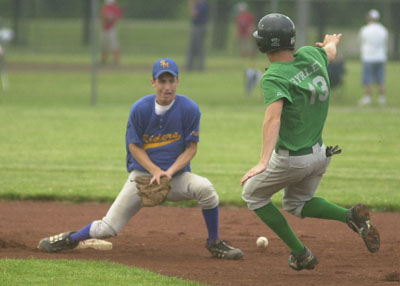 St. Marys trailed 2-0 entering the bottom half of the fifth, but the 'Riders picked up a run in the fifth and sixth innings to tie the contest heading into the last inning.
Burke drew a leadoff walk to start the seventh and was sacrificed to second by Mark Triplett. Burke then advanced on a wild pitch before Dieringer came up with the game-winning hit.
"After our 8-1 loss to Coldwater on Monday it was nice to get a big win against a quality opponent, Celina is a nice team," said St. Marys coach Pete Andreoni.
Tom Burke picked up the win for St. Marys as he pitched two innings of scoreless ball to end the contest. Zac Enderud pitched a solid five innings to start the game for the 'Riders, and he scattered eight hits while walking none and striking out one. "Zac did a great job for us, he's not the most overpowering kid, but he hit the spots and throws a lot of ground balls and that's exactly what we want," Andreoni said. "Then Tom Burke comes in and does a heck of a job, in only his second outing in four years."
Jordan Hueker took the loss for Celina, despite pitching 62/3 innings of solid baseball. Hueker surrendered just five hits to the 'Riders, but five walks and two hit batsmen are what came back to haunt him.
St. Marys scored its first run in the fifth without getting a base hit because of a hit batter. Burke reached after getting plunked by Heuker, and then proceeded to steal second and third base before getting driven in on a groundball out by Doug Burke.
Aggressive base running by St. Marys' Bo Frye got the 'Riders their second run in the sixth inning. With one out and Frye on second base and Aaron Pfeffenberger on first, Celina attempted to turn a 5-4-3 double play.
The Bulldogs got the first out at second, but Phil Langsdon beat the throw at first base.
Meanwhile, Frye never slowed down on the grounder, and came all the way home from second to score the tying run.
"That was pretty heads up, I didn't even tell him to do that," Andreoni said. "He just saw it and it was a great play, because that brought us to where we didn't need to score two in the bottom of the seventh to win it."
Celina had its share of chances to seal the game earlier, especially when the 'Dogs stranded seven runners between the fourth and sixth innings.
"We had plenty of chances, you have to hit with people on base, we did not hit with people on base the whole night, and actually, with the way we hit, I'm surprised we had two runs," said Celina coach Ron Fortkamp. "St. Marys didn't quit, they kept coming at us and they scratched and I think St. Marys deserved the ball game."
"I thought Jordan pitched a helluva ball game and we didn't support him at all," Fortkamp added. "You can't leave 11 runners on base and win a ball game, and that's exactly what we did."
St. Mary improves to 5-3 on the year while Celina dips to 3-4.
The Bulldogs will return to action today when it hosts Sidney at 7 p.m.
Phone: (419)586-2371, Fax: (419)586-6271
All content copyright 2004
The Standard Printing Company
P.O. Box 140, Celina, OH 45822