By Margie Wuebker
mwuebker@dailystandard.com
Hazel Peak learned two important lessons while growing up in Celina during the early 1900s -- never take something that doesn't belong to you and always respect the property of others.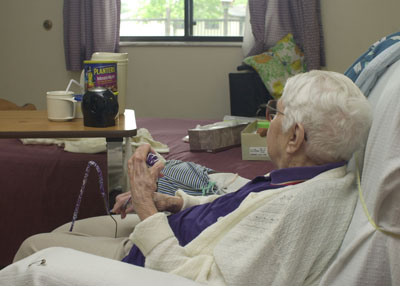 "My mother drilled that philosophy into my head," the 99-year-old Celina Manor Nursing Home resident says. "I thought everybody followed the same rules. I found out differently, not once, but twice."
Like other trusting senior citizens who lived frugally and saved diligently for their golden years, Peak became a victim of elder abuse -- a problem that befalls an estimated 13,000 older Ohioans each year. Two people she trusted and endowed with power of attorney rights drained thousands of dollars from her bank accounts.
Peak, who lost her husband in 1963 and her only child in 1990, gradually became dependent on others due to advancing age and deteriorating eyesight. She needed help with day-to-day matters including reading bills, writing checks and banking.
Donald Washburn of St. Marys, the husband of a distant cousin, began doing yard work at her South Mill Street home in the mid-1970s. He assumed more duties over the years, finally becoming the person who handled the savings and checking accounts. According to police and court records, he also diverted funds for his own purposes between December 2001 and late 2002. Margie Pifer, a local caregiver hired by Peak, contacted Celina Police regarding allegations of financial exploitation.
"I nearly lost my mind when I discovered what Donald Washburn had done," the elderly woman says. "I then placed my trust in Margie Pifer and she turned out to be no different."
Pifer's Jan. 6, 2003 allegations were referred to the Mercer County Department of Job and Family Services which looks into elder abuse issues. The case came back to police after preliminary findings indicated criminal activity.
"We have handled reports of financial exploitation before," Chief Dave Slusser says. "However, this is the first time we pursued them all the way to grand jury. Other matters were settled civilly or through agreements between involved parties. This case is unique given the amount of money and property taken and the fact suspect B turned in suspect A."
Detective Ron Waltmire discovered discrepancies between the check register and canceled bank checks being handled by Washburn. One entry listed a $2,800 check to an area pharmacy for the purchase of a wheelchair. In reality, no such transaction took place but the dollars were missing from the back account. An eight-count indictment handed down Feb. 19, 2003 listed questionable transactions totaling in excess of $31,000. The largest involved $25,000 in cash while $49.40 represented one of the smallest.
"We determined the $25,000 was a down payment on a truck for his business," Waltmire says. "The smaller amount went to the village of St. Marys to cover a utility bill. Interestingly, Hazel Peak lived here in Celina and owned no property there."
Waltmire received packets of canceled checks on a monthly basis during the course of the investigation into Washburn's activity. The last installment included the remainder of those drafted in December 2002 as well as some that cleared the bank in early January. Police believed their case was winding down. Instead new information sparked a second investigation into Pifer's activities.
Between Jan. 3 and Jan. 28, a timeline prepared by Mercer County Assistant Prosecutor Matt Fox indicates Pifer paid herself $5,700 as compensation for services rendered. She received another $450 through Feb. 5 for the same purpose. In addition, she wrote three checks totaling $1001.22 to Showplace Rental, ostensibly for a lift chair for Peak. Waltmire learned Pifer used the money for items in her own home.
"The police asked me about a lift chair," Peak recalls. "I have a recliner I bought years ago from Francis & Scofield. A spring broke and the maintenance man here at the nursing home fixed it the best he could. I can't lie back anymore but I can at least elevate my feet. Money for a new-fangled lift chair? No way! That woman lies faster than a horse can trot."
With less than $2,000 to her name, Peak had no choice but to enter Celina Manor. Pifer handled the arrangements.
A concerned out-of-state relative contacted Slusser after learning Peak had no heat due to furnace problems and was in such dire financial straits that loss of the house she treasured was imminent. Shortly after her admission to Celina Manor, one of Peak's neighbors called to report a garage sale being conducted at her home. The elderly woman had no idea customers were carting away her belongings.
Washburn pleaded guilty Sept. 15, 2003, to three theft charges after the state agreed to drop five other counts. He was sentenced to three years of community control sanctions and ordered to pay $31,058 in restitution.
"Getting some of my money back allowed me to hold my head high once again," she says. "I've always taken pride in paying my own way."
Two months following the Washburn sentencing, a grand jury returned a three-count indictment against Pifer stemming from the Showplace Rental checks. She steadfastly maintained her innocence and the matter went to trial April 21 in Mercer County Common Pleas Court.
Peak sat in her wheelchair in front of the witness stand. Fox knelt at her right side, talking loudly toward her hearing aid. She testified that she at no time gave consent or authorized Pifer to write the three checks. Judge Jeffrey Ingraham found the defendant guilty, adding "Because of the inability of Hazel Peak to see the checks when she signed them and because that was within the knowledge of the defendant, the defendant did these acts by deception."
Peak did not attend the May 28 sentencing, but expressed happiness when informed the woman she once trusted faces three years of CCS and court-ordered restitution.
"I've learned a lot in 99 years," she says with a sigh. "I would be better off today if I had learned you can't always trust people no matter how nice or caring they seem."