The skies over Eastview Park on Thursday night were an ugly gray that usually threatens all kinds of thunder and lightning.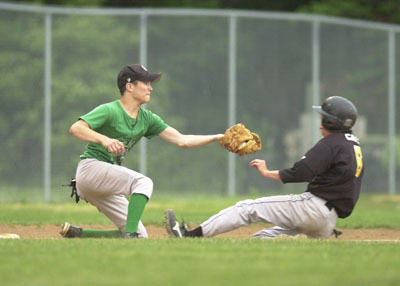 There was thunder and lightning, all right, but it was not produced by Mother Nature.
It was produced by the Sidney ACME Yellow Jackets.
The team from Shelby County thundered out 15 hits and struck the plate for 15 runs in a 15-3 five-inning, run-rule win over the Celina Bulldogs in non-league action.
"This was one of the worst defeats that a team of mine has suffered that I can remember in my 30 years of coaching," said Celina coach Ron Fortkamp. "They outhit us, outplayed us, out-pitched and outcoached us." All nine of the Sidney starters had at least one hit. Ben Gates led the way with three while four other Jackets had two hits each.
Of the 15 Yellow Jacket hits, 13 of them were singles. They also took advantage of six walks and two hit batters by a trio of Bulldog pitchers. Six different Jackets had at least one RBI as Cody Ryan and Danny Guillozet had three each.
Things looked good for the Bulldogs early as they scored in the first inning. Joe Roberts was hit by a pitch to start the game, stole second and went to third on a fly ball to center by Garrett Gray and scored on a base hit by Kiel Hawk.
That was to be it for Celina offensively until they got two meaningless runs in the fifth. For the game Sidney pitcher Ben Gates gave up just four hits and three runs over five innings. Gates walked just one and struck out three.
"We were way too anxious at the plate," said Fortkamp. "We didn't get too many good swings and we made their pitcher look very good."
Sidney put the game away with a pair of five-run frames in the second and third. In the third, Josh Rowe got things under way with a triple to the fence in left. Kyle Brammer then followed with a double to right to tie the game. Steve Evans reached on a fielder's choice and Gates was hit by a pitch to load the bases.
Cody Ryan then hit a ground ball that was booted by Celina shortstop Nick Gray which allowed Brammer and Evans to score to make it 3-1. A Danny Guillozet groundout made the score 4-1 and David Bajek singled to make the score 5-1.
In the third, Sidney sent nine men to the plate to score five more runs, all of them coming with two outs. Starbuck, Evans and Gates singled to load the bases. Ryan was hit by a pitch to make the score 6-1 and Guillozet drove in two runs with a single before Andy Clayton produced two more with another single.
Celina returns to action this evening as it plays host to Marion Local in a Mercer County League matchup.
Phone: (419)586-2371, Fax: (419)586-6271
All content copyright 2004
The Standard Printing Company
P.O. Box 140, Celina, OH 45822