By Gary R. Rasberry
grasberry@dailystandard.com
VAN WERT -- All-star games are supposed to be friendly matchups.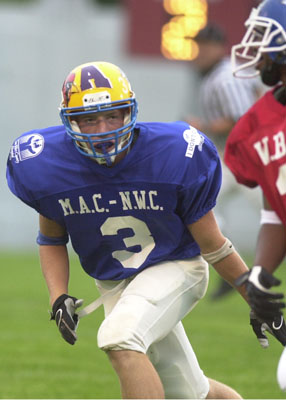 In the NHL, checking is held to a minimum and offense is the focus. In the NBA, there is a smattering of defense just so the final does not end 181-180. In Major League Baseball, most players play three innings or less, and if a team is short on players, oh well, call it a tie.
Games like that these are supposed to be a friendly little contest.
At the Van Wert County Hospital All-Star Football Game in Van Wert, occasionally one must have wondered what championship was one the line.
It's hard to call it a friendly game when a total of 15 penalties for 153 yards are recorded and sometimes the tempers got close to boiling over. "It felt like Marion-Versailles II," said Marion grad Kyle Hartings after his Northwest Ohio (NWO) team beat the Western Buckeye League stars 27-19 for the fifth win in the five years of the game. "There is so much tension at the start of the game, I didn't know what to think. Two minutes to go in the fourth quarter, I was feeling like we were going to win."
The game had a feel of a conference rivalry game or a playoff game. Both teams did not hold back much on the hitting as the sound of pads hitting pads were the rule not the exception.
For the NWO team, made up of players from the Midwest Athletic Conference and the Northwest Conference, the battle to keep the team's record perfect was just a little bit in there minds.
"I talked to Chad Otte," said Hartings, referring to the former Flyer quarterback who set the game record for passing yards last season with 242 yards. "He kinda joked around saying we better not lose."
Even Goodwin knew that a win as coach in the game was big.
"You get a lot of good-natured ribbing from the other coaches as soon as they know who's coaching," said Goodwin.
For the WBL team, the strive to win was big. Earlier in the week, Shawnee's Skylar Irons said in a local newspaper that the WBL team would win, doing his best Joe Nameth impression with a guarantee.
"We came out here all looking to have a little fun," said Marion's Matt Prenger. "I think the WBL took it a little more seriously. During the game, everyone is serious. Everyone wants to win, right?"
"I think early in the week, we felt some pressure," said Celina's Brian Gagle, who came up with several big plays on defense. "As soon as gametime hit, it was just another game. Everybody here knows how to win. ... It's like going out on any other Friday night."
The game started with handshakes, ended with handshakes and pats on the back, and had its share of picking up opponents off the field and helping put pads back in place.
But there was some hard hitting, and some jawing after big plays on both sides of the ball. Hartings was stepped on by a WBL player with no penalty being called. Of the total amount of penalties, five were for 15 yards or better and late in the game, double personal fouls were called but offset each other.
Emotions got high as the game got later and later.
"About 1:30 to go, coach (Goodwin) called a timeout and told us to keep our composure," said Prenger. "If we end this right (taking a knee and not trying to score), it makes us look a little better."
"I think we came out to show what the WBL is all about," said Gagle. "Even though we lost, we still have a lot of good hits and played hard as a team. It was a good experience."
The NWO team did not let the WBL, and Irons, forget his quote.
Their postgame huddle-breaking chant was "1-2-3 Guarantee!"