By Shelley Grieshop
sgrieshop@dailystandard.com
COLDWATER -- Marcella Short's secret to longevity includes an equal mix of prayer and good cooking. As she marks her 100th birthday today, she's remarkably still able to do both with vigor.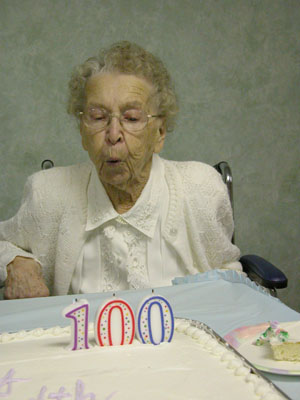 "Yes, I pray a lot," admitted "Grandma Short," as she is known around Coldwater. "I think prayer is the main thing; nothing else counts when you're talking about getting to heaven."
And heavenly is how family members describe the dishes that grandma creates in the kitchen. The word diet is not in her vocabulary, although you'd never guess it from her small frame.
"Mother eats everything," laughed Short's daughter, Martha Knapschaefer, 76, also of Coldwater. "When I was young, she used to dip bread in bacon grease and eat it. That can't be good for you."
Although her hearing fails her at times, Short still amazes everyone she meets with her sharp wit and extraordinary memory. "They say I have good bones," she laughed.
Short was born on Flag Day in 1904, the year Teddy Roosevelt became president. She's seen a lot of presidents take their oath in office, but favors the current one most of all.
"I watch President Bush every time he's on TV," Short said, and proudly boasted of the birthday card she received last week from the White House.
She uses a walker to get around the home she once shared with her husband, Bill, who passed away in 1980. The couple raised one daughter (Knapschaefer) and two sons, Bill II and John, both now deceased.
She still cooks and cleans her own home, just like she did the day they moved in 65 years ago.
Although she receives minimal help each day from Mercer County Community Hospital Home Health aides, she gives as much as she gets.
"Mother has always been a wonderful cook and she still makes the best pies around. She's been teaching the girls (nurse aides) how to make pie crust," Knapschaefer laughed. "She's too particular to let them do much else."
It wasn't long ago when Short would make homemade bread, pies and chicken and noodles and neatly pack it for her grandsons to take on hunting trips.
"With her, it's a pinch of this and a pinch of that," Knapschaefer said about her mother's baking.
Short was born and raised in Frenchtown and walked a mile and a half to school each day. Her parents and eight siblings all shared a small, five-room home.
"You were poor, mother. It's nothing to be ashamed of," Knapschaefer told her mother as the elder woman recalled details of her childhood.
Short, the former Marcella Francis, grew up on a farm and vividly recalls tending to the tobacco and corn fields as a small kid.
"We'd pick the worms off the tobacco stalks and hoe the rows. In the fall, we helped take it off, then strip it so it could be hung in the barn. In the spring, we'd start all over again putting the seed out," Short said.
The ground was rough on a small girl's feet. Shoes were a luxury for school and church. It was a hard life, she added.
Short only attended school through the fifth-grade before she was put to work to earn money for the family. She joined her father working at the Buckeye apparel plant in Versailles when she was just 15.
"Mom took all my money each week except a nickel," she said, adding that a full week's paycheck was about $15. "That's just the way it was then. I'd go uptown and get some popcorn for that nickel. Isn't that something?"
There was no electric at their farmhouse, no plumbing, a mere pot-bellied stove for cooking and heat. Their clothes were hand sewn and they weren't much to look at, she said.
Short was married in 1923 and the family moved to Coldwater in 1936.
"We had chickens and rabbits, even snakes, right here. The road out front was dirt," Short said.
"Mother always worked," her daughter said. After the move to Coldwater, she worked at the Buckeye plant in Coldwater, then used her sewing expertise to start her own sewing and alterations business from her home.
"She made many, many wedding and wedding party dresses in her day," Knapschaefer said. "Actually, she was still sewing up until three years ago when we decided it might be too dangerous for her to use the sewing machine."
For about 25 years, her grandson Jack Knapschaefer has pulled up a chair in her kitchen each noon and enjoyed a home-cooked meal and a few stories. The tradition began when he was a kindergarten student, and then after several years absence, he began the "grandma rendezvous" again and continues today.
"It was her fruit pies that I remember best," said Jack Knapschaefer, Martha's son. "The house is nearly the same as it was back then."
Short said the most important lesson she'd like to pass on to her 17 grandchildren, 49 great-grandchildren and four great-great-grandchildren is how to treat others.
"Just remember to be kind to people," she said with a century of wisdom and a twinkle in her blue eyes.