By Gary R. Rasberry
grasberry@dailystandard.com
After getting beat 15-3 last week against Sidney, Celina needed a big break going into Monday's big Mercer County ACME battle with Coldwater.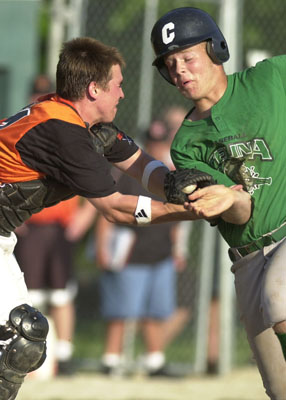 What they got was plenty of breaking balls from Eric Braun.
Braun held Coldwater scoreless through six innings as Celina finally made the most of its chances and came away with a 6-1 win at Eastview Park. The win puts Celina closer to .500 at 4-5 as Coldwater drops to 4-2 with the loss.
Braun scattered six hits and walked just two in seven innings, striking out nine Coldwater batters along the way. Several times, Braun was able to work out of jams when Coldwater had runners in scoring position with called strike threes.
"His breaking pitches tonight were outstanding," said Celina coach Ron Fortkamp. "That's probably the best he's pitched this year. He was in total control." "It looked like we couldn't hit our way out of a wet paper bag," said Coldwater skipper Romie Schwieterman. "When you get a guy who can throw that curve ball, he can drive you nuts because everyone wants to send the thing into the lake from here. We weren't patient and couldn't stay back and wait on it."
Through the first four innings, both teams came up with plays to deny runs.
In the bottom of the third for Celina, Doug Vorhees led off with a walk and ended up on third thanks to a walk to Cody Koesters and a bunt single from Nick Gray. Joe Roberts lofted a fly ball to leftfield where Ryan Gerlach made the catch and was looking to make a play at home plate as Vorhees raced for home. Gerlach's throw was perfect and found its way into the waiting glove of Dave Wenning, who tagged Vorhees in plenty of time for the out.
In the top of the fourth, Matt Howell singled down the third-base line and looked for extra bases. Garrett Gray came up throwing and Howell was out at second by several feet.
Chad Geier was able to keep Celina's offense in check for the most part, allowing just two hits in five innings of work, but also hitting three batters and walking four along the way.
Geier looked to be ready to wrap up a scoreless fifth after gettting Garrett Gray to look at strike three but Kiel Hawk came up and grounded a shot to short resulting in an error, leaving Hawk and Nick Gray, who reached when he was hit by Geier, safe on the corners. Darren Fleck stepped up and grounded hard to Howell at third. Howell's throw to first was high, allowing Gray to score easily and Hawk to slide in safely for the second run of the game. Geier proceeded to walk Braun and Jordan Hueker to load the bases again before getting Vorhees to pop out to end the inning.
"I thought Geier pitched a heckuva ballgame," Fortkamp said. "He got a little wild late and they had to take him out. I think that's what helped us."
"He wiggled out of trouble a few times," said Schwieterman. "He threw about 80 pitches and he was whupped."
In the sixth, Wade Stucke came on for Coldwater to close things out. Cody Koesters led off with a single and moved to third on a Nick Gray double. Roberts brought Koesters home with a single and Garrett Gray brought Nick Gray and Roberts home with a long double to right. Fleck singled home Gray with a single to end the scoring for Celina.
Braun cruised into the seventh, walking Howell but striking out pinch-hitters Chad Miller and Nick Rengers back-to-back. Steve Borger followed up with a single and Kyle Schoenherr doubled home Howell for the lone Coldwater run. Braun recovered to strike out Gaston Pleiman for the final out of the game.
"I can't say enough about Eric," said Fortkamp. "It was a shutout until the last inning. You get pitching performances like that, coaches are pretty easy (to deal with)."
Fleck and Nick Gray each had two hits for Celina while Brady Geier and Howell added two hits each for Coldwater.
Celina hosts Wapakoneta at Eastview tonight for a 6:30 p.m. start while Coldwater returns to Veterans Field tonight for a county matchup with St. Henry at 6:30 p.m.
Phone: (419)586-2371, Fax: (419)586-6271
All content copyright 2004
The Standard Printing Company
P.O. Box 140, Celina, OH 45822