By Marc Tobias
mtobias@dailystandard.com
Thanks to the left arm of Josh Nice and some stellar defensive plays by Grand Lake, the Mariners were able to shut out Decatur in a 6-0 win at Jim Hoess field on Tuesday night.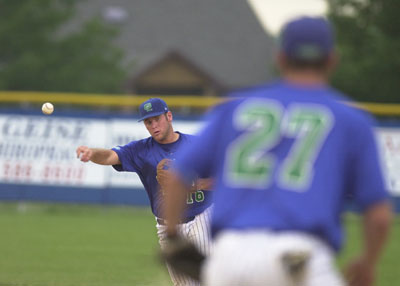 Nice kept the Dragon hitters off-balance all night en route to a 15-strikeout performance in seven innings of work.
The Mariners starter had a no-hitter through 62ò3 innings until a Nate Coclasure single down the third-base line ended his no-hit bid.
From there, Nice allowed one more single, and got out of a bases-loaded jam thanks to a diving stab and throw to first from second baseman Dusty Hammon to end the seventh inning.
"That was great, that's actually this guy's first game here and I was real happy to see that," Nice said of Hammon's diving snag. "That shows that your team is behind you when they need to be. They definitely would have scored one if not two if he hadn't caught that." Nice's 15 strikeouts is his highest total during his collegiate career with the Mariners or at Ohio Wesleyan, but he did say he struck out 18 batters when he went to high school in Hinckley.
"Fifteen is the highest I've had in a long time," Nice said. "I was very pleased (with the outing), I had good control, I had command, and our defense made the plays behind me when they had to."
Adam Johnson finished off Decatur with two solid innings of relief work. Johnson added four strikeouts which meant 19 of the Mariners' 27 defensive putouts came via the strikeout.
"He (Nice) gave a great performance and he gave our team a great edge when we needed it," said Mariners Manager Mike Stafford. "He came in and set the tempo of the game right away. He did a good job throwing strikes and that's what I preach to all our pitchers, throw strikes and make our defense field the ball. Then Adam came in and did a helluva job and we got a couple runs and never looked back."
Nice got all the run support he needed during an opportunistic bottom half of the first inning for Grand Lake.
The Mariners' Andy Hudak hit a groundball to third which appeared would be the third out of the inning, but when Decatur third basemen Josh Foster saw his throw hit the fence behind first base, it allowed Jon Hatfield to score and Hudak to move to second base.
Phil Disher then hit an RBI single that plated Hudak, and Kris Moorman hit a single that plated Disher for a 3-0 Mariners lead.
Grand Lake tacked on its fourth run in the third inning when Mike Bertrum belted an RBI double that scored Disher.
Moorman finished an outstanding 3-for-3 day at the plate in the sixth inning with a home run over the left-field wall.
"Kris stepped up and definitely gave us a lift, especially when we were stagnant there for a few innings and didn't score," Stafford said. "He came up and hit I think the second pitch out which pretty much put the nail in the coffin for the other team."
Disher ended with a 2-for-4 day at the plate with two runs scored and two RBI.
"That was our 11th game and the bats are coming around. The transition from aluminum to wood takes time and the more at-bats you can get in the better, and it showed a little bit better tonight and hopefully we can continue that tomorrow when we have a league game (at Indianapolis) and get off to a good start," Stafford said. "I was very proud of our ball club today, we came out on both sides of the baseball and produced and played hard and never looked back."
Grand Lake improves to 6-5 on the year while Decatur falls to 6-7. The Mariners next home game is Friday against Indianapolis.
Phone: (419)586-2371, Fax: (419)586-6271
All content copyright 2004
The Standard Printing Company
P.O. Box 140, Celina, OH 45822