By Gary R. Rasberry
grasberry@dailystandard.com
COLDWATER -- After a sluggish loss to Celina on Monday, Coldwater needed to bounce back Tuesday in facing a competitive St. Henry team.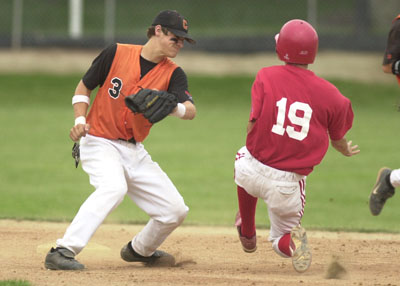 Coldwater got off quickly and kept up the pace as Matt Howell tossed a complete game 6-2 win over the Redskins in the home opener for the Cavaliers ACME squad at Veterans Field. The win puts Coldwater at 5-2 on the season as St. Henry drops below .500 at 5-6.
The Cavaliers coaching staff needed to stoke the fire of the team after a 6-1 loss on Monday to Celina. Romie Schwieterman, the humorous head coach of the ACME team, said he used a perfect motivational tool.
"We threatened to ground them all weekend and that they had to be in before the streetlights came on. That sure makes a difference when you're talking to a 16,17,18-year-old kid." said Schwieterman with a grin. "We got immediate results.
"They came out with a little fire in their eyes tonight. It seems like a whole different team. We have great team speed and if we have a lead, we can work with that. If you're down in a hole, like we were last night, you can't really do that." The Cavaliers used their speed in their first at-bat. Troy Siefring beat pitcher Andy Huelsman's throw to first for a single and moved to second when the throw went past the bag. Chad Geier followed with a bunt to the right side to move the runner up and Ryan Gerlach lofted a flyball to short center. Brady Schmitz made the catch and threw the ball home but it was cut off, allowing Siefring to score.
The Cavaliers got two more runs in the second with Brad Heyne scoring off a single from Kyle Schoenherr, who scored later on a wild pitch.
"Coldwater did what they needed to do," said St. Henry coach Joe Wourms. "They hit the ball well, ran the bases well and took advantage of our one or two mistakes. That meant the ballgame right there."
That was all that Howell needed. The senior-to-be had a no-hitter for the first 32ò3 innings and kept the Redskins scoreless until the fifth inning when he tired a bit and gave up two runs, one being unearned.
Howell stayed in and continued to be strong, allowing two hits in the sixth before retiring the side in order in the seventh. Howell walked just two and struck out five in allowing five hits.
"He technically should have one more day (of rest)," said Schwieterman, who knows a little bit about pitching from his days at Coldwater and Bowling Green. "But with a big league game with St. Henry, you know they're going to be a tough opponent, we felt the most comfortable with Matt. Even with one less day, he was around the plate. He didn't have that extra 5 mph with his fastball, but he was around the plate and he battles."
"It took us six innings to get our sticks out," said Wourms. "We didn't have that many hits before that inning. It took us a while to get going. We have to come ready to play. Hopefully we can get the sticks out earlier next time."
Coldwater added extra runs in the third and fourth inning to push the lead up to 6-0 before St. Henry got the bats going. In the fifth, Howell got the first two batters out before walking Alan Hartke. Mike Gast came up and doubled deep to center as Hartke dashed around the bases and headed home, sliding into home plate for the Redskins' first run. Gast scored when Huelsman's single to right got past Trevor Stromblad.
Heyne came up with the big hitting day for Coldwater, going 3-for-3 with a double. Schoenherr went 2-for-3 with two runs scored and Siefring added a 2-for-3 day. Matt Dippold paced St. Henry with a 2-for-3 game.
Coldwater will stay at home tonight to play Fort Recovery in a 6 p.m. doubleheader at Veterans Field while St. Henry travels to Rockford on Thursday to face Parkway in a 6:30 p.m. county contest.
Phone: (419)586-2371, Fax: (419)586-6271
All content copyright 2004
The Standard Printing Company
P.O. Box 140, Celina, OH 45822