By Gary R. Rasberry
grasberry@dailystandard.com
ROCKFORD -- Ron Fortkamp didn't have to search for words for his postgame thoughts after Wednesday's contest.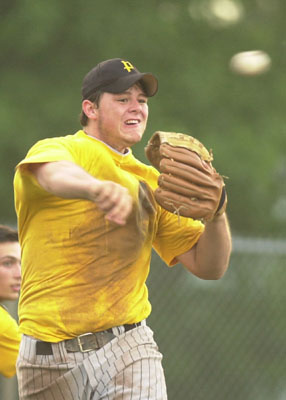 "A win is a win," said the Celina ACME coach after his Bulldogs came back from two runs down in the sixth to tie the game, then score three times in the top of the seventh to beat Parkway 5-2 at Don Black Field in Rockford. "We didn't play our best, but we found a way to win."
Celina gave up the early lead to a Parkway team that had to scramble to put together a starting lineup with school athletic physicials keeping players away from the diamond, prompting the game to start one hour later than the usual 6:30 p.m. pitch.
For the early part of the game, the jerry-rigged lineup made the most of the opportunity as the Panthers scored on a wild pitch then ran the suicide squeeze to perfection to go up 2-0 after four innings of play.
"Parkway was at a disadvantage early," said Fortkamp. "I think they used the first nine (guys that came out)." While Parkway was scoring, Celina was having trouble with the curveball of Tyler Brickley. Brickley scattered five hits through the first five innings, allowing just one run when Doug Vorhees scored on Kyle Hawk's sacrifice fly.
"We didn't like his curveball. It was tough," said Fortkamp. "We started thinking too much about curves and we didn't hit for three or four innings. Give him a lot of credit, he pitched a real nice game."
"Brickley threw an outstanding game with all this humidity," said Parkway coach Mike Moorman. "It started to get to him."
Things started to fall apart in the sixth for Parkway as Brickley showed signs of fatigue. The Panthers were able to get the first two outs of the inning, but pinch-hitter Andy Waesch kept the inning alive by hitting a shot to shortstop that was misplayed for an error. Vorhees was hit by a pitch and Nick Gray drew a walk to load the bases before Moorman called on Matt High from rightfield to try and get out of the jam.
High got Joe Roberts to a 1-2 count before hitting him and bringing home Cody Koesters, who re-entered in his spot for Waesch, to tie the game at 2-all.
Jordan Heuker, who came in to pitch for starter Caleb Byrley in the fourth, got Parkway out in order in the bottom of the sixth to set Celina up for a chance to win in regulation.
Hawk led off with a single to left and Darren Fleck received the bunt sign and laid down a perfectly-placed bunt that was not fielded, giving Fleck a hit. Eric Braun was called on to try a bunt and succeded, dashing down first to load the bases.
After an out was recorded, Fortkamp called for the suicide squeeze with Koesters at the plate. Hawk left a little early from third base but Parkway didn't notice it and Koesters put the ball down the right slide and made it to first after Hawk slid in for the game-winner. Vorhees then wapped up the scoring by singling to left to bring in two more runs.
"I don't know how many bunt coverages we messed up," said Moorman. "We messed up numerous coverages, things we work on in practice. I don't know. We just didn't execute today. That's what lost us the ballgame."
Tim Shellabarger started the seventh inning for Parkway by reaching on an error. Dusty Ford then grounded to short as Nick Gray threw to second for the force out but Ford made the second out when he was thrown out trying to steal second. Jeff Boyer ended the game with a pop-up to third.
Heuker picked up the win with 3 2/3 innings of one-hit baseball, striking out four and not allowing a walk.
"He came in and did everything we could possibly ask of him," Fortkamp said of Heuker. "I thought we had a little bit of a defenisve lapse in the fourth that put Byrley in trouble, so we went and brought in Jordan. To get out of that (the fourth) with (giving up) one run was nice."
"We had some guys who just didn't seem to have their heads out there. We had a weird start to the game, but that was no excuse. Celina did a great job coming back. Coach Fortkamp called a great squeeze play in the seventh," said Moorman. "I'm learning a lot about some people. We'll try to come back but we can't have the mental mistakes."
Vorhees led Celina with a 3-for-3 day with two runs batted in while Roberts went 2-for-3 with an RBI.
Celina is at home tonight for a 7 p.m. game with Greenville while Parkway stays at home with St. Henry coming to Rockford for a 6:30 p.m. contest.
Phone: (419)586-2371, Fax: (419)586-6271
All content copyright 2004
The Standard Printing Company
P.O. Box 140, Celina, OH 45822