By Gary R. Rasberry
grasberry@dailystandard.com
ROCKFORD -- For the first three innings of Thursday's game, Parkway were the pop-up kings.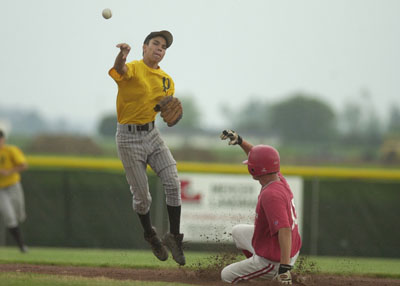 The last several innings, though, they were on the hit parade.
Parkway recovered from being down 4-0 to score three times in the fourth and four times in the sixth to beat St. Henry 7-5 at Don Black Field in Mercer County ACME action.
The win makes the Panthers the first 10-win team of the summer in the area. St. Henry drops to 5-7 with the loss.
"I think we had nine hits over the last (three) innings," said Parkway coach Mike Moorman. "Hitting's contagious, that's what I've always learned to be true." "We played two different ballgames tonight," said St. Henry coach Joe Wourms. "The first three we were stellar. Putty (St. Henry starter Andy Puthoff) pitched a heckuva game the first three innings and started getting hit a bit. A few plays didn't go our way and it turned out the way it did."
For the first three innings of the game, Parkway batters made Puthoff look like an All-Star. The first eight outs of the game were pop flies. Only when Jeff Boyer tried a bunt down the third-base side for a groundout did Parkway put the ball on the grass. Puthoff had a perfect game through 31ò3 innings before the Panthers picked up their first hit.
Meanwhile, Parkway starter Jordan Heckler struggled, getting his pitch count into the 60s in the third inning. Parkway errors contributed to three unearned runs in the first inning, two coming on a misplayed fly ball in right field that allowed Matt Dippold and Rick Bergman to score. A fourth run off Heckler came in the top of the fourth when Alan Hartke walked, moved to third on Brad Brophy's double and scored on Andy Huelsman's sacrifice fly.
Parkway began to rally in the bottom of the fourth. After Puthoff got the first out, Trevor Krogman singled and moved to second on a wild pitch. A single by Heckler put runners on the corners and Ryan Berry loaded the bases for Matt High. High grounded to second but the force play was mishandled, scoring two runs and putting runners on first and third. Rikki Covarrubius scored Berry on a sacrifice fly to put Parkway within a run.
St. Henry got the run back off reliever Grant Ross in the fifth when Rick Bergman was hit by a pitch, stole second and went to third on a wild pitch. Puthoff scored the run by reaching on an error.
After holding Parkway in the fifth, Puthoff came out to start the sixth. Heckler greeted him with a single. Berry followed and doubled home Heckler to make it 5-4. (Continued from page 1B)

Tim Shellabarger, who came in to play first when Ross went to the mound, laid down a perfect bunt that went for a hit and put runners on the corners. Tyler Brickley singled home Berry and went to second on the bad throw from center.
Worums went to the mound and called on Michael Hoying from the bullpen. The moved looked to work as Shellabarger was tagged at the plate on an unsuccessful suicide squeeze. Covarrubius followed with a pop-out. Ross stepped up and doubled home Brickley for the go-ahead run. Boyer followed with a single to score a sprinting Ross for the final run of the game.
"I went out (before Shellabarger's bunt) and told them what to expect," said Wourms. "I was going to have Michael (Gast, the third baseman) stay and have the pitcher (Puthoff) cover the third base side, and he never got over there. That opened the flood games for us."
"Shellabarger's bunt for a single was the turning point," said Moorman. "That got everyone going. The guys really responded. You have to give them credit for bouncing back after last night (a 5-2 loss to Celina after leading 2-0) and in the first three innings of tonight. That was a big thing."
All that Parkway needed was to have Ross close the door. After giving up two groundouts, Dippold doubled to keep the Redskins in rally mode. Ross shut the door on the next at-bat. striking out Bergman to win the game.
Ross pitched three innings of relief, allowing the lone double by Bergman and striking out two.
"Grant pitched a great job in relief," said Moorman. "He threw to one batter last night. He's one of those guys who always wants the ball. Not only did he pitch a helluva game, he came up with a huge hit. That's Grant Ross for you: a great team player.
"I said last night I'm learning a lot about people. These kids are showing me a lot. When we come ready to play, we can play with anyone. If we don't play, like we did in the first three innings, we can't. I'm trying to get it to the level where they can maintain that level from start to finish."
"Ross did his job and so did Parkway," said Wourms. "They hit the ball when they needed to and made the plays they had to make to win the ballgame."
Heckler and Berry each went 2-for-3 for the Panthers. Dippold had a 20-for-4 game for St. Henry.
Parkway is off until Monday when they play Fort Recovery at Rockford for a 6 p.m. doubleheader. St. Henry plays Marion on Saturday in a 11 a.m. doubleheader.
Phone: (419)586-2371, Fax: (419)586-6271
All content copyright 2004
The Standard Printing Company
P.O. Box 140, Celina, OH 45822