By Marc Tobias
mtobias@dailystandard.com
Grand Lake may have got some of the momentum it needed to jump-start their season when the Mariners swept a twinbill from Indianapolis at Jim Hoess Field on Friday.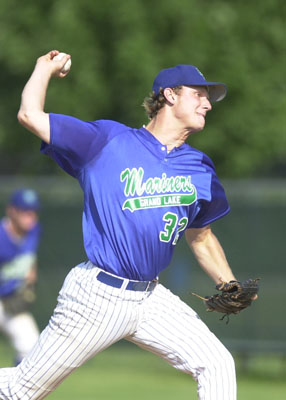 The Mariners received a top -notch pitching performance in a 2-0 win in the first game when Ross Liersemann threw a complete game one-hitter against the Servants.
In the second game, it was Grand Lake's bats that shined as the Mariners cruised to an 11-2 win.
"It feels good, I've been waiting for this team to turn the corner, and today was a great day, not only on the mound but definitely at the plate in the second game," said Mariners skipper Mike Stafford. "We came out swinging, got to their starter and got into their bullpen a little bit and just didn't look back from there."
Grand Lake's bats weren't quite as hot in the first game, but they didn't need to be because of Liersemann's performance on the mound. The University of Akron product was one mistake from pitching a perfect game, as he allowed a single up the middle with two outs in the fourth inning on a 1-2 count to the Servants' Rob Neigle.
"He didn't hit it hard off me either. I jammed him and it just went right over me. I don't think it made it out of the infield," Liersemann said. "That's all right, one hit is not too bad."
Neigle was the only Indianapolis batter to reach base, as Liersemann faced one hitter over the minimum.
The Mariner starter said his control was about as good as it gets, and the box score backs up that statement.
Liersemann allowed no walks while striking out 11, and he did it while only having to throw 82 pitches.
"With wood bats, it's a pitchers league right now. These guys haven't really adjusted yet to swinging these bats, so I just come after them, throw strikes to get ahead, and then use your out pitches," Liersemann said.
Phil Disher scored the winning run in the second when he reached on a walk and advanced (Continued from page 7)

to second when Kris Moorman was hit by a pitch. Michael Bertrum then dropped in a hit to centerfield to bring Disher home for a 1-0 lead.
Moorman added a security run for the Mariners in the top of the seventh when he scored from third after the Servants threw to second in an attempt to pick off Scott Billak on a steal attempt.
"We did a great job on the bases with our base running, hit and runs and stealing. I couldn't be any prouder of the guys," Stafford said.
Bertrum went 2-for-3 in game one with an RBI.
Philip Thompson was the hard luck loser for Indianapolis, as the Servants' starter threw six strong inning in which he allowed just one run on three hits while striking out eight and walking one.
Game two
The Mariners received another strong start in game two as David Zachary went five solid inning in which he allowed one run on five hits while striking out five.
It was an offensive explosion in the fourth inning that set the tone in game two, though, as the Mariners plated seven runs in the inning.
Indianapolis gave the Mariners some help in the fourth as they committed two errors, walked three batters and hit another batter in the inning.
Grand Lake scored their first two runs of the inning on a wild pitch and a botched pick off play by Indianapolis.
Moorman then hit a two-run single and that was followed by a Josh Stewart two-run single for a 6-1 Mariners lead. Jon Hatfield would later plate Stewart on a sacrifice fly for a 7-1 Mariners lead.
"The second game, after we got that seven-run inning, I think they got down and out of it and we just kept taking it to them and kept grinding," Stafford said. "I wanted to get some guys off the bench some at-bats. They looked like they swung the bats pretty well, which was good because I wanted to get everybody involved in the second game."
Grand Lake kept up the pressure by scoring three more runs in the fifth inning with a Billy Grace double scoring Andy Hudak. Grace would later score on a wild pitch, one of three Servant wild pitches in the game, and Moorman would later score on an error.
Jeff Warnock drove home Hatfield for the games final run in the sixth inning.
Jeremy Krol and Greg Becker each pitched one inning of solid relief to close out the game.
"Ross and David did a heck of a job for us today," Stafford said. "Ross, the first game. got the momentum and set the tone for the game. We didn't look back and he kind of carried the momentum in the dugout and we were able to steal a run in that last inning to make it a two run game in case something would happen in that last inning."
Grand Lake runs its Great Lakes Summer Collegiate League record up to 3-4 and once again returns to league play today when it hosts Youngstown in a doubleheader that begins at 4 p.m. The Mariners are also home in GLSCL doubleheader action on Sunday against Southern Ohio with play starting at 2 p.m.
Indianapolis falls to 0-2 on the season.