By Marc Tobias
mtobias@dailystandard.com
The Celina ACME baseball team was able to sweep a doubleheader from Grand Lake rival St. Marys on Saturday afternoon at Eastview Park.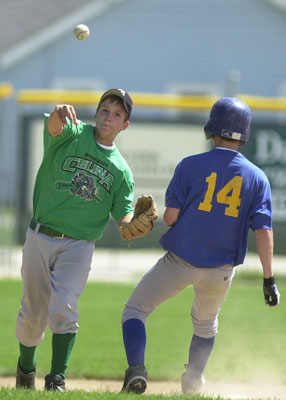 While both squads had trouble fielding the ball, it was Celina that committed fewer mistakes.
The Bulldogs wound up winning the first contest 10-4 and held off a St. Marys rally in the seventh in Game Two for a 9-7 victory.
"It wasn't the prettiest of ball, but we got a win and we got all our kids in," said Celina coach Ron Fortkamp. "We were able to get all of our junior ACME kids in so they got a little experience, but I don't think from either side it was a pretty ball game. Pitching wasn't sharp for either side, and the hitting lacked and it was just kind of lackluster. But heck, it was nice to get the win and we'll take them any way we can."
The first game saw St. Marys starter Zac Enderud get victimized in the second inning. After retiring the first two batters of the inning, Celina went on to score eight runs to take a five-run lead.
Andy Waesch singled to get things going and Cody Koesters followed with a walk. Both were driven in on a Doug Vorhees double. Nick Gray then reached on an error, which was followed by consecutive singles by Joe Roberts, Garrett Gray, Kyle Hawk and Darren Fleck.
Eric Braun then drew a bases-loaded walk off relief pitcher Mark Triplett, and Waesch hit his second single of the inning, this time plating two runners.
"St. Marys wasn't the same team as when we played over there a couple of weeks ago. They were tough a couple of weeks ago but I believe they were missing kids today," Fortkamp said.
St. Marys was indeed playing shorthanded all day, as it had 11 players in uniform for Game One and just 10 for Game Two.
All the missing players didn't help a St. Marys defense that committed a combined eight errors in the two games because of having to shuffle players in and out of their normal positions.
"I think we had a rut where we had error after error and that just drives me crazy," said St. Marys coach Pete Andreoni. "I try to preach defense as much as possible, and hopefully you hold people to as little as possible and you can try to find a way to score two or three runs."
Waesch finished 2-for-2 in Game One while scoring a run and driving home two runs. Waesch also picked up the victory on the mound when he pitched 2 1/3 scoreless innings of middle relief.
Roberts finished 2-for-5 with a run scored and two RBI in Game One for Celina while Joe Clouse came in and finished off the St. Marys with three innings of one-run ball to close out the game.
In Game Two, Clouse once again was called upon and followed with his second solid performance as he allowed two runs in two innings on just two hits.
Clouse and the Bulldogs were once again helped by St. Marys defensive miscues for a big early inning.
This time Celina scored nine runs in the first inning thanks to a pair of St. Marys errors, two walks, a hit batsmen and three wild pitches.
Dave Delap suffered the loss for St. Marys as he allowed all nine runs (four earned) in 2/3 an inning of work.
Jared Ackley came in to close out the nightmarish first inning and pitched solid baseball the rest of the way as he held Celina scoreless the after the first frame.
Roberts once again had a nice day at the plate for Celina as he went 2-for-2 with two runs scored and a stolen base.
Aaron Pfeffenberger helped lead a St. Marys rally, with a two-run double in the third that helped cut the deficit to 9-3.
St. Marys then rallied for four runs in the top of the seventh when the Bulldogs had trouble putting the game away, but Braun was able to get the last three outs to preserve the win.
"After getting a nine-spot dumped on them in the first inning we were real close to making it a tie ball game, we had second and third a couple of times so we were real close to doing it," Andreoni said.
Pfeffenberger finished 3-for-3 with a run scored and three RBI for St. Marys which falls to 6-7 on the season.
Nick Gray picked up the win by tossing four innings of middle relief to help Celina improve to 8-5 on the summer campaign.
Phone: (419)586-2371, Fax: (419)586-6271
All content copyright 2004
The Standard Printing Company
P.O. Box 140, Celina, OH 45822