By Sean Rice
srice@dailystandard.com
City residents may see a 3.4 percent increase in electric rates, while larger industrial customers may see rates decease, if Celina City Council approves a pending electric rate structure overhaul.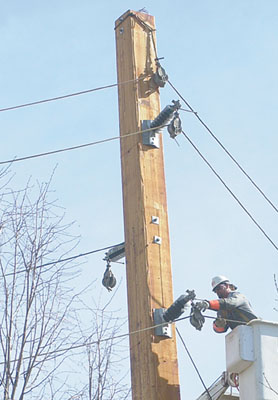 The changes presented to council by city administration are based on the results of an expansive cost-of-service study started last year. A city-hired engineering consultant examined the electric department's rate structure to determine the actual costs it takes to serve each of the six rate classes, ranging from homes to large factories.
The results showed residential users are charged about 12 percent less than what it cost the city to provide service. The largest industrial user in Celina is paying about 17 percent over the cost it takes to bring electric to the company.
"For years the larger users have been paying the freight for us smaller users," Safety Service Director Mike Sovinski told The Daily Standard. "These changes bring it more in line to what it actually costs to serve each customer, but not equal."
The ordinance under consideration would raise in-city urban residential rates by 3.42 percent on average and rural residential rates by 12.17 percent. Larger commercial customers would see decreases between 1 and 11 percent. The rate schedule under discussion is based on the current profile of electric usage and current bulk rates from American Municipal Power-Ohio (AMP-Ohio). Both factors could change, officials said. Celina has been known as a city with attractive electric rates compared to similar municipalities, officials have noted. But rates for industrial users are not as attractive as Celina's residential rates.
Residential rates are currently about 30 percent lower than what Dayton Power and Light (DP&L) would charge residences in this area, Sovinski said. But for Celina's largest industries, the city rate only beats DP&L's rate by less than 1 percent on average.
The current electric rate table has six divisions covering residential, commercial, industrial, government and educational use. The expansive schedule is further broken down to level of usage, and urban and rural categories. It was created in the early 1960s and has not changed since 1976.
Sovinski said the current rate structure is so complex, it requires an engineer to determine the actual per-kilowatt cost to a particular customer. The 27-year-old rate schedule was compounded with the addition of the state's kilowatt-hour tax and the energy acquisition adjustment, which the city uses to recoup bulk power price spikes.
"It takes quite a bit of math to go in an see how a rate is broken down," Sovinski said.
Celina Aluminum Precision Technology (CAPT), the city's largest single user, had an engineer figure out what the company is charged, and what it cost the city to provide the energy, Sovinski said. Concern expressed by the company is one of the factors that spawned the rate structure study. CAPT would receive an average 11.54 reduction in rates with the proposed changes.
"This is not an attempt to bring in revenue," Sovinski said. "When we set out on this, a goal was to keep our total revenue the same as what it was."
He said the changes may bring an additional $26,000 to the electric fund annually. The total yearly operating budget is near $11 million.
"There are too many variables to say whether that will happen," Sovinski said of the added revenue.
The electric fund currently contains a carry-over balance of more than $3 million. Sovinski said that cash cannot practically be used to address rates because it is needed on hand for emergencies. An emergency replacement substation would cost near $2 million.
Phone: (419)586-2371, Fax: (419)586-6271
All content copyright 2004
The Standard Printing Company
P.O. Box 140, Celina, OH 45822