By Margie Wuebker
mwuebker@dailystandard.com
Paul and Helen DeMange instilled an appreciation for music in each of their 14 children. Much like tossing a pebble into a pond, their message has created a ripple effect touching two more generations.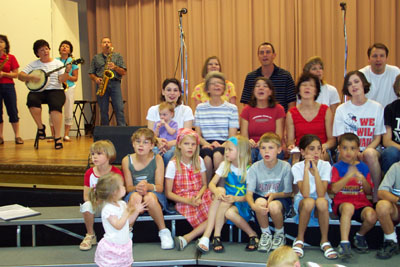 The DeMange Band formed in 1959 establishing a tradition that continues today. As the years passed and the stage became too small, a second family band known as The Imperials was formed. Each sibling played in one of the bands at one time or another.
In celebration of music and entertaining, 55 family members representing three generations of DeManges will take to the Maria Stein Country Fest stage on Sunday for shows at 5 and 7 p.m.
"You'll be singing and clapping along as you hear music from all genres and eras," Ken DeMange says. "Each show is different. Come for the first and stay for the second."
The 14 DeMange children, who now range in age from 41 to 63, learned to appreciate music very early in life. It became a way of life just like working on the family farm, attending school in nearby Versailles and going to church on Sunday morning. "My sister Christina and her husband, Alfred Carity, would come over on Sunday and everybody joined in the fun," Helen DeMange recalls with a chuckle. "Alfred played the banjo and my husband pulled out his harmonica. There was no shortage of piano players because all the kids had an ear for music."
The children learned the golden oldies -- "Tennessee Waltz," "Beautiful Ohio," "Could I Have This Dance?" and "Cruising Down the River" -- between handfuls of popcorn and glasses of Kool-Aid.
Anyone wishing to get rid of an upright piano or some other instrument contacted the DeMange family. Helen DeMange pinched pennies and purchased a mandolin. The drums came next.
"Mom always told us to keep practicing and one day we would have a band of our own," Nancy Niekamp says. "Her prediction proved to be right on the mark."
The older DeMange children -- Carl, Betty (Poeppelman), Nancy (Niekamp), Margie (Bruey), Ed and Joan -- decided to form their own band in 1959. Some of them had been performing with the Gehret Band for two years and they felt the time was right.
"We played once a month at the St. Joe schoolhouse near Fort Recovery," Niekamp says. "We didn't even have a microphone in those days."
Younger siblings -- Ernie, Marilyn (Bensman), Lee, Roger, Rick, Elaine (Marshall), Theresa (Hemmelgarn) and Ken -- came along from time to time and dreamed of the day they, too, would be on the platform.
"We let our children keep the money they earned," Helen DeMange says. "If they spent it foolishly, they were to blame and nobody else. All of them turned out to be pretty good money managers."
The second family band formed in the late 1960s or early 1970s to give younger siblings an opportunity to perform.
"We played for weddings on Fridays, weddings or dances on Saturdays and anniversaries on Sundays," Betty Poeppelman says. "The bad thing was booking engagements two years out. Fortunately, we had siblings who could stand in for maternity leaves or in times of illness."
The DeMange Band earned $60 per wedding during the early years with each member receiving an equal share. They played from 2-5 p.m. before heading home to change clothes and do the milking or other farm chores. After bathing and eating, they returned to the reception hall to provide dance music from 8 p.m. to midnight. Add at least two hours to the schedule to allow time for loading/unloading equipment and setup at the hall.
"Weddings have changed over the years," Niekamp says. "They used to be all-day affairs with dinner and supper. Now the ceremonies take place in the afternoon, supper is at 5:30 or 6 and dancing goes from 7-11. People don't stay at the reception as long as they once did."
Now when they perform folks often come up to the stage to tell them, "You played at our wedding." During a recent wedding reception at E-Z Campground near St. Marys, Ken DeMange announced the band had performed years ago for both sets of parents.
"Yes, there have been some changes over the years," Niekamp says. "But people still like the same old things -- the Bunny Hop, Hokey Pokey, square dances and the Wedding March. We've added some new things like the chicken dance and line dancing over the years. We play modern tunes but we still prefer the oldies like waltzes and polkas."
Some siblings have retired from the music scene due to other commitments but remain active in their respective church choirs or with organizations like the Town & Country Players in Versailles. The Imperials gradually faded from the local music scene, and Roger DeMange currently performs with the Free Rider band. Niekamp, Poeppelman and Ken DeMange continue to play with the DeMange Band, with Dan Lennartz of Fort Recovery, Ed Larson of Versailles and Jim Blue of Sidney filling the remaining spots.
The family now includes 49 grandchildren, many of whom play or played in high school and college bands, and 39 great-grandchildren who also enjoy singing and dancing.
Niekamp describes the family's penchant for music as a gift from God that was meant to be shared. Her mother agrees, adding it is a common thread that fostered unity and a desire to stay close to home. All 14 children live within a 15-mile radius of the Versailles-area homestead, she said.
Helen DeMange, a widow since 1982, will be in the audience for both Sunday shows. However, she has no intention of joining the throng on stage.
"Making music and entertaining may run in the family," she says. "However, I am content just to sit on the sidelines and applaud along with the rest of the audience."