Celina's seven-game winning streak came to a halt on Tuesday at Eastview Park as St. Henry got a solid pitching performance by Andrew Huelsman and strong defense to post a 4-3 victory.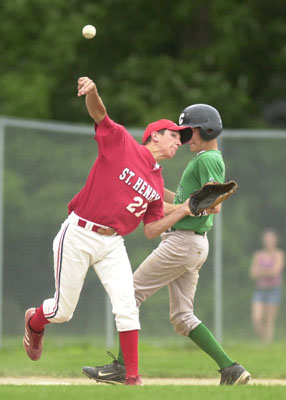 "We accomplished a lot of things we wanted to accomplish tonight," said St. Henry coach Joe Wourms. "Andrew pitched well and we continued to hit the ball good and play strong on defense. That's what we like to see from game to game."
Celina (10-6) got the scoring underway in the bottom half of the first inning as Kiel Hawk reached first base with a single and stole second base before Darren Fleck doubled off the left-field fence to give the home team the 1-0 lead.
Trailing by a run, St. Henry erupted offensively in the third inning as Tyler Schmit led off with a rocket up the middle for a single and advanced to second base when Rick Bergman pushed a chopper off the pitcher's mitt, giving the visitors base runners at first and second.
With no one out and the heart of their batting order due up, Andrew Huelsman laid a perfect bunt down the third-base line and was able to beat out the throw to first base, loading the bases. A passed ball allowed Schmit to score and the other two runners to advance safely to second and third base. Matt Dippold showed why he bats in the number four spot as he knocked a double, scoring both Bergman and Huelsman to give his team the 3-1 advantage.
"Aside of having a good game on the mound, Drew (Andrew Huelsman) did well for us at the plate tonight," commented Wourms. "He picked up a couple of base hits and even though that bunt was supposed to be a sacrifice, he beat it out and gave us a run a little later on."
Celina got things hopping early on in the fourth as leftfielder Garrett Gray sent a deep smack to centerfield, and coasted into third base with a stand-up triple. Darren Fleck plated Gray two batters later but after three complete innings, the home team still trailed, 3-2.
The fourth and fifth innings went by with no changes on the scoreboard, but St. Henry extended its lead in the top of the sixth inning as Andy Puthoff led things off with a single. After stealing second base and advancing to third base on a passed ball, Alan Hartke walked, giving St. Henry runners on the corners. Mike Gast sacrificed Puthoff home, giving the Redskins the 4-2 lead.
Down two runs with just three outs to play, Celina went into the bottom of the seventh inning with the top of its lineup due at the plate.
Joe Roberts singled and moved to second base on a passed ball and after Garett Gray reached on a base hit, Wourms called time to summon his bullpen.
Huelsman left the game with three strikeouts, while giving up one earned run. Puthoff entered in relief and was greeted with a deep fly ball to leftfield by Hawk allowing Roberts to score to cut the deficit to 4-3.
Celina's next two batters flew out to end the contest just as soon they looked prepared to take control of the game.
"I give St. Henry all the credit tonight," explained Bulldog coach Ron Fortkamp. "Our kids have no reason to hang their heads. They hit the ball well, but St. Henry was able to make a lot of great defensive plays. They had some great catches in the outfield and the third basemen had four or five put outs."
Celina travels to Wapakoneta on Friday, while St. Henry improves to 7-9 on the year and will host Fort Recovery tonight at the Wally Post Athletic Complex.
Phone: (419)586-2371, Fax: (419)586-6271
All content copyright 2004
The Standard Printing Company
P.O. Box 140, Celina, OH 45822