By Gary R. Rasberry
grasberry@dailystandard.com
If there was any bright spot to the end of what was a rough evening for the Grand Lake Mariners, it was the fact that what happened on Tuesday was out of the way before a series of important games begins tonight.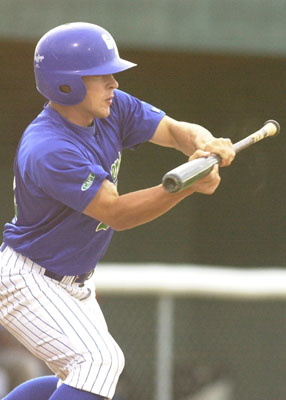 The Mariners made four errors and broke down from the fourth inning on as Portland took a 7-2 decision in non-league action at Jim Hoess Field. Grand Lake drops to 5-7 with the loss as the Rockets improve to 11-4 in their summer slate.
Mariners' first-year skipper Mike Stafford hopes that his squad got all the bad out of their system with a battle of perennial Great Lakes Summer Collegiate League powers slated for the next three evenings, starting with a road game against the rival Lima Locos at Shawnee High School tonight.
"If it was going to happen, I'm glad it happened tonight," said Stafford. "We have a couple of important games with Lima, Columbus and Delaware that we can't afford to do that to. Those are good ballclubs in our division. If there was a night we should have done (what happened), it's tonight."
Mariners starter Josh Nice started strong as the Ohio Wesleyan hurler allowed just one hit over the first three innings, starting the game with seven straight outs. In the fourth, however, things unraveled quickly. Coldwater native and Tiffin University infielder Ryan Rammel started things with a single. Brandon Cooley followed with a deep shot behind first and as Mariners second baseman Dusty Hammond came over and looked to make the play, he threw the ball away, putting Rammel on third. Tommy Pearce brought Rammel home with a sacrifice fly to open the scoring for Portland.
Brandon Dillon brought Cooley home with a single and, after making it to third, scored when the throw down to second on the double-steal attempt sailed into the outfield. All three runs Nice allowed were unearned.
Nice allowed another run in the fifth and gave up a triple and run-scoring single to start the sixth before coach Stafford brought in Jeff Loveys to get out of the jam.
"We looked pretty flat tonight," said Stafford. "The first couple of innings we were okay. The other team put a little pressure on us, made us field some bunts and make some plays. They took advantage of our mistakes. We got behind. They kept on scoring and putting pressure on us and we kept making mistakes. ... They hit the ball well (collecting 12 hits in 37 official at-bats). We started to unfold after the fifth inning."
Rockets hurler Pete Bynum was cruising, scattering six hits over seven innings, striking out six and giving up three walks before giving way to Kyle Heyne. The Coldwater native and Ball State pitcher tossed two hitless innings while striking out four.
Grand Lake managed to dent the scoreboard as the Rockets suffered a case of the errors in the sixth. After Andy Hudak lined out to short, Josh Stewart batted for starting catcher John Franzese and reached on an error. After Phil Disher struck out, Jeff Warnock doubled to score Stewart.
Jon Hatfield stepped up and grounded hard to second base but the throw to first was low and as Warnock rounded third and headed home, the throw was wild, allowing Warnock to head to second. Bynum recovered to get out of the inning with just the two runs, both unearned.
Hammond was the big hitter of the night for the Mariners, going 3-for-4. Disher, Billy Grace and Warnock had the only other hits.
"We were hitting the ball okay," said Stafford, "But there were some things we could have done better. We had guys in scoring position with less than two outs and didn't do the job (Grand Lake left eight on base, including three on third base).
"We also made mistakes defensively. ... When you do that in a wood bat league like this, where runs are a big part of the game, it's hard to come back from."
Grand Lake's game with Lima tonight starts at 7 p.m. before traveling to Columbus on Thursday for a 7 p.m. game with the All-Americans at Bill Davis Stadium. The Mariners return home Friday for a 7:15 p.m. game with the Delaware Cows.
Phone: (419)586-2371, Fax: (419)586-6271
All content copyright 2004
The Standard Printing Company
P.O. Box 140, Celina, OH 45822