By Janie Southard
jsouthard@dailystandard.com
Carolyn Brandon and Karen Miller Bennett tramped into Swamp College Cemetery recently armed with mirrors, chalk, flour and rice paper, and settled in for tombstone reading.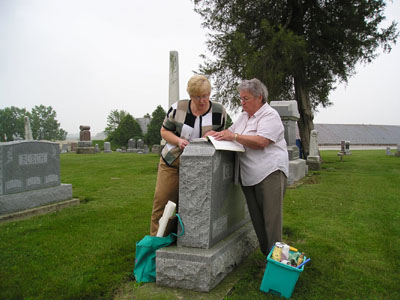 Both genealogists and history buffs, the rural Celina women have been canvassing cemeteries for many years looking for hidden treasure: the information written on tombstones that chronicles the area's past.
"So far, the Mercer County Genealogical Society has put together eight volumes of cemetery listings," said Brandon, a charter member of the society.
But it's not as easy as it sounds. Some old grave markers pose a real challenge with names, dates and designs blurred by time, disintegration of the stone and a healthy growth of plain, old moss.
Bennett dipped in her big, blue bag and produced a hand mirror to demonstrate how it can be used sometimes on hard-to-read stones to bring forth the lettering. Even though the day was cloudy, the mirror reflected enough light to decipher some of the words on the old stones. Bennett stood in front of the stone and directed the light beam onto the 150-year-old words to reveal the name "Brock, 1870."
On down the way was a stone that gave up the name "Platt 1895" through the use of special paper taped to the tombstone and then rubbed with special brown chalk.
Brandon confirmed the names in the cemetery book by glancing through the avenues of the dearly departeds' names.
As she searched in the book, she pointed out that successful readings more often than not come down to the time of day, angle and brightness of the sun.
Bennett, a board-certified genealogist, said the stones with raised letters wear first. Once those letters are gone the identification will rely on any remaining shadows, and on the cemetery books.
"The older stones will give a lot more information about the family, such as 'wife of ...' or 'son of ...' and so forth," Brandon said.
But almost always, you have to do the math.
Instead of listing the birth date, the old tombstones list exact age at death, i.e., 67 year, 3 months and 17 days. So, modern stone readers have to add that information to the deceased birth date to figure out the date of death.
Many of the graves in the older sections are those of infants and young children, which are often marked with tombstones in the shape of lambs, hearts or cherubs.
"Sometimes you'll find several children from the same family dying within days of each other. It probably means an illness, like smallpox or typhoid. Sometimes the mother has died around the same time. It's sad," Brandon said.