By Shelley Grieshop
sgrieshop@dailystandard.com
MARIA STEIN -- National pro-life activist Dr. John Willke lashed out at Catholic politicians who support abortion and lectured on what he calls the unethical use of embryonic stem cells during a speech in his hometown Sunday afternoon.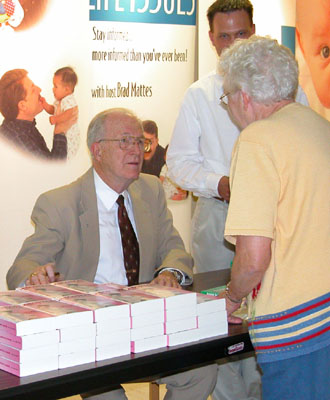 Willke, himself a staunch Catholic, was blunt when asked how he felt about pro-abortion senators, such as presidential candidate John Kerry and U.S. Senator Ted Kennedy, who repeatedly speak out and vote pro-abortion, yet are active in the pro-life Catholic church.
"I personally would not want any Catholic churches to extend an invitation to any pro-abortion politicians," said Willke who now lives in Cincinnati, but was born in Maria Stein. "I think it's pretty well established that they should excommunicate Catholics who speak out for abortion. The real scandal in the church is not sex abuse, it's about giving Ted Kennedy communion."
He disagrees with church officials who take a more liberal view of the politically controversial question.
Willke, 79, said he talked to a Cardinal recently who said there'd be a lot of people leaving the church if it took that stand. "I told him those people are really not in the church now," he said.
Willke said Catholic bishops spoke on the subject just one week ago and they "punted," Willke said, explaining many top church officials are afraid to comment on the subject mixing church and politics.
Willke encouraged each Catholic in the audience to let their clergy know how they feel on this issue.
Willke, the founder and president of the International Right to Life Foundation and author and member of a long list of pro-life organizations, explained to a crowd at the Spiritual Center in Maria Stein about the two types of stem cells used today -- adult and embryonic.
"Adult stem cells can be removed from you and put back in you," for a variety of medical and life-saving procedures, he said.
But embryonic stem cells come from a four- or five-day-old "living, breathing embryo," Willke said.
"They cut them (embryos) open and remove about 20 stem cells," Willke said. "What you hear is that stem cells are 'harvested' or they are 'grown' from embryos. That's not true. They must kill (the embryos) them."
Willke explained in simple detail the process of conception and how, within the first week of conception, a tiny embryo already has the same cell make-up, DNA, that it will have as an adult.
"That answers people's questions when they wonder if an embryo is alive," he said, countering the pro-abortionists claim that life begins at birth not conception.
Willke gave several examples -- success stories -- of patients of all ages who have recovered from a variety of illness by injections of their own stem cells.
"If you put back your own stem cells inside you, your body won't reject them," he said, unlike the risk of rejection from the foreign DNA of an embryo.
When asked how he felt about couples conceiving for the sole purpose of gaining stem cells for an ailing child, Willke gave an example of a similar situation that not only saved the life of the sick child, but spared the life of the infant whose stem cells were used.
"The lesson is you don't have to kill one living human being to save the life of another," Willke argued as many listeners nodded in agreement.
He warned the public not to be fooled. The title "stem cell research" nearly always includes embryonic cells, he said. And although Nancy Reagan "wants you, the taxpayer, to pay for the research," he said, Reagan's son, Michael Reagan, has stated his father, a staunch pro-life president, would never have approved. Reagan's other son Ron, however, recently stated his strong support of stem cell research.
Willke and his wife of 54 years, Barbara, were warmly received Sunday, as the last day of festivities continued at the Countryfest.
"This is home," Willke said with a smile. "Looking back through the field, I can almost see where I was born."
Willke is a first cousin to Marilyn (Willke) Schwieterman, wife of retired Dr. Don Schwieterman, whose family continues the Marion Township medical practice begun by Dr. John Willke's grandfather.