By Marc Tobias
mtobias@dailystandard.com
Grand Lake received another strong pitching performance from one of its starters in last night's 3-1 win over Columbus at Jim Hoess Field.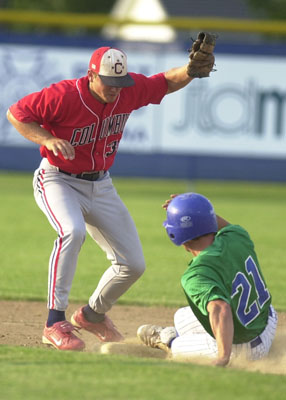 Solid performances from Mariners starters have almost become commonplace, and last night it was Andy Delagarza's turn to shine on the mound.
Delagarza picked up the victory by allowing just one run in seven innings of six-hit ball. The Grand Lake starter also racked up 10 strikeouts with no walks issued.
John Prejsnar finished off the last two innings to pick up the save by allowing one hit and striking out two.
"Our pitching has been great this year, our starters have been giving us strong quality innings throughout the summer and hopefully that will stay throughout the course of the season," said Mariners coach Mike Stafford. "I have to tip my cap to all the starters because they've given us a chance to stay in the games." With Delagarza silencing the All-Americans' bats, the Mariners offense only needed to scrap a few runs across the plate to seal up the victory.
Grand Lake plated all three of those runs in the third inning thanks to some timely hits and speed on the base paths.
Jon Hatfield walked and stole a base to start the inning, and was then brought home on a Scott Billak single.
Billak's hit was a bit fortunate, as it appeared his grounder would be fielded by Columbus shortstop Matt Repec, but the ball took a wicked hop and bounded into left field.
Billak then swiped second base, and when the catcher's throw went into left field he advanced all the way to third.
Aaron Bulkley then ripped a double to right field to score Billak and Bulkley later scored on a Kris Moorman sacrifice fly.
"Each day I see little things that we talk about throughout (Continued from page 1B)

meetings that players are starting to understand and starting to do," Stafford said. "Today we had a guy on third base with less then two outs and Kris hit a sacrifice to make it a 3-1 game. It'd be a little bit different if it was 2-1 but it gives you a little bit of leverage to work with as far as strategy goes."
Ben Snyder took the loss for Columbus as he allowed all three runs in the third on three hits.
Those three hits were the only ones the Mariners got the entire game, though, as Snyder and Michael Krieger -- who threw three innings of relief -- shut down the Grand Lake attack the rest of the game.
Columbus, meanwhile, mustered six hits, but the All-Americans didn't get any free passes, as Grand Lake didn't allow a single walk for the game.
The only run for Columbus came in the seventh inning when Matt Dugan hit a solo home run.
"We got a lot of young pitchers on this roster, but they got good arms and they go right at guys and that's all I can ask from them," Stafford said. "I told our pitchers from the beginning of the year to make them earn their way on base, don't give them any walks and make our fielders field the ball and good things will happen. So far we've been playing pretty this last week and a half and I couldn't be any prouder of our guys."
The Mariners improve to 8-6 on the year and return to action today when they host Indianapolis. Columbus falls to 6-4 with the loss.
Phone: (419)586-2371, Fax: (419)586-6271
All content copyright 2004
The Standard Printing Company
P.O. Box 140, Celina, OH 45822