By Margie Wuebker
mwuebker@dailystandard.com
MINSTER -- Bubbles in all shapes and sizes floated across Four Seasons Park on Tuesday afternoon drawing a chorus of giggles as they disintegrated wetly atop heads and noses.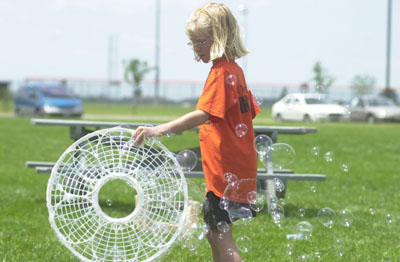 Lawrence Welk, the purveyor of champagne music complete with bubbles, would have been proud.
Becky Prenger, librarian at Francis J. Stallo Library in Minster, presented the Bubblefest program in hopes of giving children a novel approach to having fun and getting wet on a warm summer day. She also delivered a timely message to a sea of smiling faces.
"You don't need to go to the store and buy things in order to have fun," Prenger said to the five dozen youngsters in attendance. "We're going to make bubbles with all kinds of things -- some much cooler than others."
With slotted spoons and turners straight from her kitchen utensil drawer, Prenger moved to one of the brightly colored kiddie swimming pools on the lawn. Youngsters leaned closer as she sloshed the utensils in soapy water. One flick of the wrist and bubbles spewed forth. The same thing happened when she used a plastic cup from a box of detergent. "All I did was put some holes in the cup and it became a great bubble machine," Prenger said. "Don't let mom throw out plastic strawberry baskets or the plastic from a six-pack of pop. They work great, too. It sure beats the old wand in the bubble bottle method."
Eight-year-old Olivia Winner looked over her bubble-making options before reaching for a white plastic disc richly detailed with filigree designs. She plopped the circle in the soapy liquid and then whirled across the lawn leaving a shower of randomly sized bubbles in her wake. Two-year-old Jacob Wissman toddled toward the "bubbies" giggling as they broke on his toes, hands and nose.
"He loves to pop bubbles and this is just perfect," mother Amy Wissman explained. "Jacob has never seen this many bubbles at one time. He's in bubble heaven."
Five-year-old Chance Goubeaux grew tired of pancake turners and strawberry baskets, opting for one of the few store-bought devices -- an honest to goodness bubble gun. Strolling across the lawn like a cowboy on the way to a showdown at high noon, he checked to make sure the gun was loaded.
"There is a full bottle of bubbles," he confirmed with a menacing smile. "Ready, set, fire."
Alan Snyder became the target of an onslaught of bubbles that danced across his head. He laughed and shook off the wetness as they popped.
Nine-year-old Morgan Richard joined other budding artists around a line of picnic tables covered with white paper. Prenger mixed colorful Tempera paints and water in aluminum pie pans and then blew through a straw into the liquid creating a frothy mass of bubbles. They left an artistic design on sheets of craft paper.
"Look what I did," Richard said carefully holding up an intricate design for others to see. "I used my favorite color."
There was no need to ask what color that might be. Telltale blue spots dotted her cheeks indicating a close encounter with the medium.
Bubblefest is just one in a series of summer programs sponsored by the library and the village of Minster. Weekly story hours are held at 10 a.m. Tuesday, with the events taking place at Four Seasons Park throughout July.
Phone: (419)586-2371, Fax: (419)586-6271
All content copyright 2004
The Standard Printing Company
P.O. Box 140, Celina, OH 45822