By Shelley Grieshop
sgrieshop@dailystandard.com
WILLSHIRE -- Joe Butler won't soon forget the raging floodwaters that turned his small grocery store into a murky pond last summer.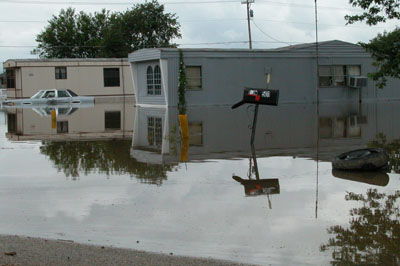 "The sixth of July was my birthday and we were sandbagging until 3 a.m. the next day," said Butler, owner of J&J Butler grocery store.
The water inside the store rose to 14 inches, washing items off the bottom shelves faster than Butler and volunteers could salvage them.
"Then it started coming up through the toilets," Butler, 66, said. "We knew we had lost the battle."
Normally, the St. Marys River flows just 150 yards from Butler's store where Ohio 49, 33 and 81 intersect in the small village a few miles across the Mercer County line. But last July was anything but normal for the area. The torrential rains began on Independence Day, dumping 5 inches and quickly filling streams and creeks. The sun broke through the next day, but by Sunday, July 6, a second series of storms deluged the area with 5 more inches in just a few hours.
The National Weather Service reported more than 15 inches of rain soaked the Grand Lake St. Marys area between July 4 and 8, and it had nowhere to go. Fortunately, no injuries were reported during the disaster.
Hundreds of residents in the Rockford, Montezuma and St. Marys Township areas were dealing with flooded basements or worse, but the most visible and costly damage occurred near the spillway in Celina. Hundreds of gawkers watched daily in awe as the Beaver Creek spilled its banks and water surrounded and flooded into the nearby Breakaway RecPlex and Community Medical Center.
Former Breakaway co-owner Melissa Smalley and her husband entered the fitness facility from the rear entrance via the bike path trail on July 7. By phone, they told other co-owner, Julie Harlamert, they were excited to see only a small amount of water trailing inside. The excitement was short-lived.
"All of a sudden Melissa shouted into the phone, 'It's rushing in everywhere,' " Harlamert recalled.
By the next day, it took a rowboat to retrieve important files and other items from the three-story health facility, which eventually filled with 6 feet of water. The business was gutted and remained close for three months after sustaining nearly $1.5 million in damage.
Jim Wermert, chief financial officer for Mercer County Community Hospital, Coldwater, said damage to the medical center in Celina was "disheartening."
"We had recently put in new tiles and carpeting," he explained.
Up to 4 inches of water trickled into the medical facility from Beaver Creek, forcing the hospital to move the Doctor's Care operations to nearby Sugar Street, and displacing all the physicians who practiced in the building.
"Looks were deceiving when we first got in there," Wermert said. "It was the quality of the water, not the quantity. Black water is what it was -- we knew right away it was contaminated."
The hospital had no flood insurance but received approximately $1.1 million from the state disaster fund to cover the estimated $1.5 million worth of damage. Soaked carpet, damaged drywall and other items were replaced and the facility opened five months later.
Despite the devastation and long days that followed the back-to-back storms, Wermert said he has good memories of hospital employees, physicians and community members pitching in to help.
The same memories of helping hands were echoed by residents and officials in Willshire as teenagers from area church groups, Amish families and people they didn't even know came to fill sandbags, provide food and assist in any way possible.
Willshire Mayor Sharon Krall was on vacation when the flooding began, ironically sitting by the Ohio River watching it flow.
"All I remember is how peaceful it was there," Krall, 65, said.
Following a startling call home, she packed her bags and headed back to the town she was born in.
Main roads in and out of Willshire were impassible and the small village soon became an island, entered only by those who knew how to escape the path of the ever-growing river. Rick McCoy, director of Van Wert's Emergency Management Agency, was forced to drive from his office through Indiana to reach the water-soaked community.
The detour also kept the Army Corp of Engineers of Columbus from bringing sandbags directly to Willshire, McCoy said.
"Apparently, they're not allowed to cross state lines so they brought the sandbags to the engineer's office in Van Wert, and then we had to haul them through Indiana and over to Willshire," he explained. "It was the stupidest thing, but that's politics."
Butler's hardship didn't end in July. In October 2003, his wife Judy, who co-owned the store with him, passed away from multiple myeloma cancer. Six weeks ago he underwent surgery for colon cancer and is currently receiving chemotherapy treatments.
The insurance company that covered the store for 18 years refused his claim, calling the flood an "act of God" that was not covered in his policy.
"They did give me a $3 check for overpayment of premiums though," he said shaking his head at the irony. Later his insurance agent tried to bill him for more than $400, saying the business was underinsured the previous year. He paid them about half, he said, then told them to take a hike.
The health department prohibited him from selling most items in the store, fearing moisture damage, so he gave much of it away. The rest was hauled away in 26 dump truck loads. He lost more than $33,000 in damaged goods, and after a bureaucratic hassle, he finally received $10,000 in assistance.
All in all, he feels fortunate that he was able to reopen the store just two weeks after the flood began.
"I never look back," Butler said.