By Shelley Grieshop
sgrieshop@dailystandard.com
ST. MARYS -- Can future flooding be avoided? Is the spillway to blame or is it the lack of designated wetlands?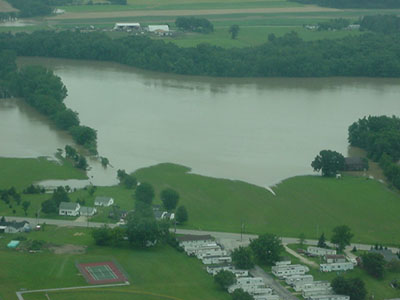 Those questions and many others arose soon after more than 15 inches of water poured into the local area in July 2003. And no one appears to have the answers.
Grand Lake St. Marys Watershed Coordinator Heather Buck believes more wetlands could help. She would like to see more property owners designate their acres to wetlands -- particularly those acres that flood repeatedly.
"It's happening, there are wetlands cropping up here and there, but just not as extensive as we'd like to see," Buck said.
The purpose of wetlands is to soak up excess rainfall like a sponge, Buck explained. Unplowed fields and lots of natural vegetation in fields can help keep rivers, streams and ditches from overflowing too far out of their banks, subsequently causing soil erosion. But most landowners, particularly farmers, believe wetlands are a waste of money.
"In my opinion, most farmers see wetlands as a means of taking away agriculture production," she said. "I understand it's a financial issue."
Buck said there are federal programs available that pay farmers to abandon their fields and turn them into wetland, and other programs such as no-till that are designed to reduce erosion of the land. Still, it's a tough idea to sell locally, she said.
"In this area especially, people like the neat and tidy look even in their fields," she said.
Last year, farmers along the Beaver Creek argued aloud to state officials that the spillway was allowing too much water over the top, causing flooded fields along the Beaver Creek and Wabash River. At the height of the flood, more than 24 inches of water poured across the concrete fixture along West Bank Road in Celina.
"If there were some retention ponds in the St. Henry and Maria Stein watersheds, it might slow the flow to the lake. Perhaps that would make more of a constant flow into the lake instead of a gush," Buck said, adding that regulating the flow in, could regulate the flow out.
The controversy over the spillway and its purpose continues today between landowners and the Department of Natural Resources.
Matt Quinter, a heavy equipment operator, works these days reshaping and filling riprap (rock) along the ditches in Auglaize County that feed into the St. Marys River.
An employee of the Auglaize County Engineers Office, Quinter is helping the county repair the damage last summer's flood wreaked on the river and the 160 miles of drainage ditches that lead into it.
It's a race to beat the deadline, Auglaize County Engineer Doug Reinhart said. After working this spring on major log jams in the river, crews are currently busy reshaping more than 30 ditches at a cost of more than $300,000. County workers must complete the project by the end of September to qualify for reimbursement from the state, Reinhart said.
"There are four really bad ditches but they all need something," said Mike Schmerg, an Auglaize County surveyor.
In 1994, Auglaize County began a project to remove the log jams in the river from the city of St. Marys to the Indiana state line. Annual maintenance, which is partially assessed to landowners along the river, helps keep the river free flowing to prevent it from backing up onto someone's property.
Unfortunately, last year's flood undid much of the progress and created "horrific erosion problems," Reinhart said.
Officials hope the current work will minimize future flooding.
Dan Mecklenburg, an engineer with the Ohio Department of Natural Resources, has studied in recent years the Wabash River, which is fed by the lake through Beaver Creek.
He believes the Wabash drains as efficiently as it feasibly can. He also may be the only one who sees the benefit in last year's flood.
"Floods have a dramatic cleaning ability. The turbulent waters mix with the quiet waters downstream and have amazing cleaning power," Mecklenburg said.
The cleaning effect helps carry debris downstream and can lead to less flooding of the land in the future, he added.
Overall, Mecklenburg said perhaps everyone should just leave well enough alone when it comes to the Wabash.
"Could it be more efficient? That's hard to imagine," he said. "There are very few waterways as efficient as that one."