By Shelley Grieshop
sgrieshop@dailystandard.com
ST. HENRY -- St. Henry Community Picnic organizers know it just wouldn't be a festival without the village's youth group. Literally.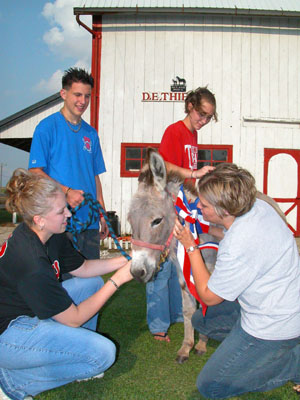 As in the past, the St. Henry Youth Group is handling at least seven activities on the grounds of this weekend's festivities, which kick off Saturday in the heart of the village following 4 p.m. Mass at St. Henry Catholic Church.
Twenty-five years ago, Linda Thieman was handed the job as director of the group that, at that time, numbered a few dozen at most. Today the youth group draws nearly 200 junior high and high school students, some from surrounding communities.
"The key is longevity," laughed Thieman. "And you have to have high expectations of the kids."
This year the youths are sponsoring the Little Miss & Mister St. Henry Pageant which takes place at 6 p.m. tonight. The event successfully debuted last year during the village's Bicentennial celebration, Thieman added. The "Dunk the Punk" game and bean bag tournaments, the turtle soup and Pizza Hut stands, the talent show and lip sync contest are all run by the group.
But it's probably the Donkey Plop that gets the most notoriety. Gamblers choose and buy squares inside the donkey's pen, where they believe the animal will leave behind 'droppings' throughout the day.
"Years ago, festivals used to have "cow plops," Thieman said. "I guess the donkey is less 'forceful' than a cow."
The Thieman's own donkey, Brandi, is the star of the event that draws plenty of spectators waiting for the donkey to "do his thing," Thieman said.
Mark Lefeld, president of this year's picnic, said the community is fortunate to have Thieman and the group of young people who are visible in so many activities throughout the village.
"All kinds of organizations contribute to the picnic, but the youth group really does a big part of it," Lefeld said.
Lefeld said the picnic would definitely not have the variety it does without the youngster's help.
Thieman admits that not all the members of the group are active in every endeavor the organization takes on.
"You have to find your key people. We elect officers each year and those kids are the ones I count on to make things happen," she said.
It's also the personal contact with the kids that keeps them coming back each year, she said.
"And a lot of phone calls," she added with a laugh.
The St. Henry picnic will continue through Sunday.
Phone: (419)586-2371, Fax: (419)586-6271
All content copyright 2004
The Standard Printing Company
P.O. Box 140, Celina, OH 45822