By Janie Southard
jsouthard@dailystandard.com
ST. MARYS -- Lois Engle has outlived most of her customers but she has a couple who still come in every week for their shampoo and set.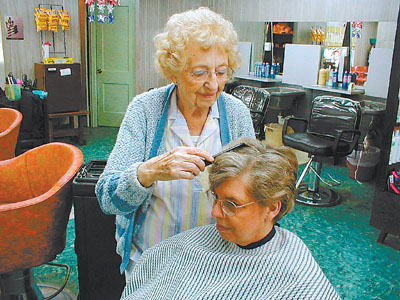 When Engle, 95, graduated from Betty Jean School of Beauty Culture in Fort Wayne, Ind. in 1930 a shampoo/set was 35 cents.
Today she charges only $7 for the same service at her St. Marys shop, a price less than half today's average charge.
"I think $7 is fair. Over that, it's just too much," Engle told The Daily Standard this week at The Lois Beauty Shop of St. Marys at the corner of High and Front streets.
Like many people who lived through the 1930s and the Great Depression, her attitude about money was honed when there was not much to spare and people held on to what they had. Even at Betty Jean's, Engle took classes day and night to finish the course early so she could start making her own money. At the noon break at school she'd race off to a nearby diner to wait tables.
Her first shop was in her native Spencerville at her grandmother's house. Then she moved herself and her shop to the town's hotel. In the early 1930s she married the late Bill Engle with whom she would celebrate more than 60 years of marriage, and followed him to St. Marys. There she styled hair in a room in John Scope's confection shop near the St. Marys Theater.
Engle recalled using the Perma Wave machine, which was attached by cords to a woman's curler-rolled hair. "It took three to four hours for a permanent," she said.
Or, customers in the 1930s could ask for a Marcel wave using a special hair iron, which Engle still has, and Macassar Oil. Think of the early Mae West's close curled hair.
"Marcels were real popular back then," Engle said.
In 1966, she opened a Merle Norman Cosmetics Studio in her shop. In 1977 her two daughters, Sandra Clausing and Becky Davis, both beauticians, took over running the beauty shop and the Norman studio.
But, of Engle's handful of customers, Lucille Lure who first came to Lois's Spencerville shop, still comes regularly from Mendon for her weekly styling.
Engle was honored recently by the National Cosmetology Association at the annual convention in Chicago with the "Giving Back Award."
She has been a member of the NCA for more than 50 years.
Phone: (419)586-2371, Fax: (419)586-6271
All content copyright 2004
The Standard Printing Company
P.O. Box 140, Celina, OH 45822