By Margie Wuebker
mwuebker@dailystandard.com
It could well be Mercer County's most diligent employee, working 24 hours a day, seven days a week, without lunch breaks, vacations or even paid holidays.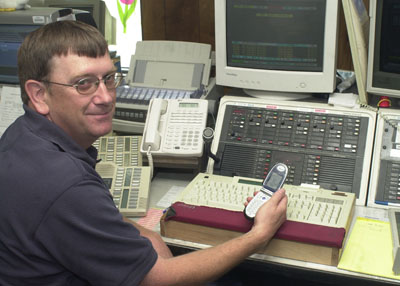 Area residents depend on 911 for quick assistance in time of need. However, the computer-aided dispatch (CAD) system obtained in 1989 is in need of major upgrading to the tune of more than $81,000.
There have been numerous occasions in recent months when the system simply locked up, once as a dispatcher was in the process of sending an abulance on a medical emergency.
"I am very concerned about the recent rash of CAD problems we are experiencing," Diegel said. "When the system is down, dispatchers are unable to have address and contact information in front of them."
Diegel likened such situations to what dispatchers faced prior to implementation of the system -- looking in the county directory and poring over maps when sending cruisers, ambulances and fire trucks to emergency scenes. The calls continue to come into the dispatch area when the computer system is down, but personnel no longer have the benefit of important information quickly appearing on the screen before them. "Whoever researched CAD back in the 1970s and 1980s did a tremendous job when it came to selecting a system," Diegel said. "However, the system has grown faulty after nearly 15 years of constant service."
Like a family that gradually outgrows a home, CAD has reached a point where existing data storage is no longer sufficient, Diegel said. Data is constantly updated in regard to how many people live or work at each address, the names of appropriate contacts and medical information regarding existing conditions and possible drug allergies. Such information can be relayed to responding firefighters and rescue squads.
"The number of homes has more than doubled and the listing of telephone numbers has skyrocketed," Diegel added. "One business has a thousand numbers alone. That was not the case when the system went online in 1989."
Emergitech, the current service provider, has notified Diegel it will no longer maintain existing tape drives used to back up stored data because the outdated equipment is no longer produced. He views the $1,000 expenditure in that regard as a Band-aid approach at best.
"If the existing backup goes down, we lose everything from that point on," he said. "If we go ahead and replace the tape drives, we run the risk they will not be compatible with the upgrade. We're in a catch-22 on that."
While extensive planning went into the selection and implementation phase, Diegel and Mercer County Sheriff Jeff Grey lament the fact that no one bothered to set up a reserve fund for upgrade or replacement purposes.
The upgrade, which includes computer hardware and software along with improved backup capabilities, carries a price tag of $81,055. That total also covers installation services, project management and training.
Additional mapping equipment, capable of pinpointing the origin of 911 calls made on cell phones, tacks on another $49,532. Diegel expects it is only a matter of time before legislators mandate such service.
Funding remains doubtful as the Mercer County Commissioners continue to deal with financial concerns. They have requested county departments trim 7 percent from their current budgets in hopes of heading off future shortfalls.
Diegel and Grey had hoped to use federal anti-terrorism dollars after it was determined communications equipment was a viable expenditure. However, officials with the local Terrorism Task Force Response Committee claim funds are not available to cover the upgrade.
"Our backs are against the wall at this point," Grey said. "There appears to be no money for something that benefits everybody in Mercer County as well as people who drive through here."