MINSTER -- The Auglaize County ACME sectional tournament committee might as well of drawn teams out of the hat rather than seed them when they met last week if Friday night's opening round action at Hanover Street Park was any indication.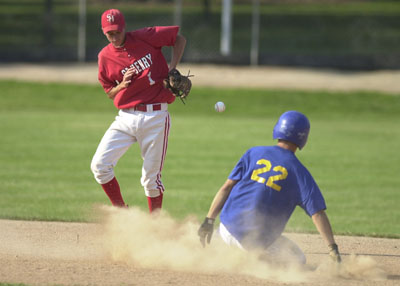 In the opener, number-four seed New Bremen shutout number-one seed Wapakoneta 7-0 behind the pitching of Alex Leugers and timely hitting.
In the nightcap, number-three seed Minster pounded out 15 hits and rode the right arm of Dusty Ellis to blast St. Marys 9-2.
In round two today, New Bremen will face Minster in a winner's bracket game scheduled for 2:30 p.m.. Wapakoneta and St. Marys will meet in an elimination game scheduled for a noon start. Both games will played at Hanover Street Park.
New Bremen-Wapakoneta
New Bremen got things rolling in all three phases of the game, fielding, hitting and pitching in downing the Redskins.
Leugers was in complete control as he allowed just three hits in posting the complete game shutout. The senior-to-be walked just one and struck out three.
Leugers finished the game strong as he set down 19 of the last 21 batters he faced.
"Alex threw an absolutely great game tonight," said New Bremen coach Eric Schwartz. "He threw a two-hitter and then later he hits a three-run homer that gives us some room. All in all he had a great game."
The New Bremen defense was solid behind Leugers as well. After committing eight errors in a loss to Celina on Tuesday, the Cardinals did not commit an error on Friday night.
"We did not come ready to play against Celina," said Schwartz. "Our focus all season long has been improving on our fundamentals and tonight we game ready to play."
New Bremen manufactured the only run it needed in the opening inning. Andy McMurray reached on an error to start the game and after a sacrifice by Greg Eiting, Brian Garman tripled to centerfield to make the score 1-0.
The top of the New Bremen batting order came through again in the third to add two more runs. McMurray walked with one out and Eiting then laced a single to right with McMurray scoring when the throw from Wapak rightfielder Craig Nagel sailed into foul territory past third base. After a Garman single moved Eiting to third, Eiting scored on a single by Todd Keller to make it 3-0.
New Bremen added a fourth run in the fifth as McMurray walked with two outs and scored on Eiting's double to right.
"Numerous times we had kids step up and come up with big hits," said Schwartz."We talked about it all year, tonight we finally put everything together."

Minster-St. Marys
Ellis, like Leugers in the opener, was on his game in defeating the Roughriders. Ellis allowed just two runs on three hits in posting the win, walking three and striking out seven.
Unlike Leugers, Ellis did have one scrape to get out of to preserve his win. Leading 4-1 in the fifth, Ellis threw a wild pitch on a third strike allowing Dave Delap to reach base and then walked Mark Triplett and gave up a bunt single to Mark Riesen to load the bases with no outs.
Ellis struck out Zach Enderud for the first out followed by Nick Pfenffenberger bouncing to second for the second out allowing Delap to score. Ellis got out of the inning by inducing Bo Frye to bounce to third.
After the fifth, Ellis sent down six of the last seven batters he faced to complete the game.
"Dusty is intense on every pitch but he also has composure and that showed in the fifth," said Minster coach Austin Kaylor. "Defensively behind him, this was the first time since early June that we had all our regulars in the lineup together and just to get them on the field together, you can see the difference. When we get our nine together, the nine that will play the most of the time next spring, we can make plays that we haven't made all summer."
Offensively, Minster pounded out 15 hits, spread between seven different batters. Danny Mueller, Wes Sherman and Jake Luttmer led the way three hits each.
Seven different Wildcats collected an RBI, led by Alex Stricker and Zac Boeke with two each.
"We were frustrated in the middle innings, leaving runners on base," said Kaylor. "I tell you what, nothing cures that like hitting lasers like we did there in the late innings. Offensively, that was the hardest we hit the ball all summer. Like I told the guys, tonight we might not have scored as many runs as we would have liked to do but it was definitely the hardest we hit the ball all year."