By Marc Tobias
mtobias@dailystandard.com
After what was already a very solid high school baseball career at Celina, Sean Boley was able to elevate his game to another level as a senior and that's why The Daily Standard has selected him as its Player of the Year.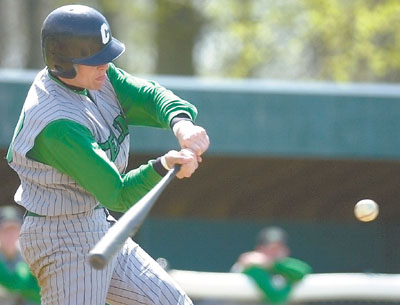 Boley hit a robust .523 during his senior campaign that also saw him hit six home runs and 15 doubles while driving in 41 runs.
Boley's senior batting average and doubles were school records, while his 41 RBI were second best all-time at Celina.
His power and consistency were also evident by his .920 slugging percent with an on base average of .584, both of which were season records at Celina.
"He definitely stepped up his senior year and had a tremendous season for us and helped our team win," said Celina coach Bruce Boley. "He worked extremely hard in the off season, I'm not sure in my 23 years of coaching if I ever had a kid work harder in the weight room, in the batting cages and defensively blocking pitches and just on the all around game as he did. We've had some kids work hard in the past, but you'd have to put him at the top of that list." Those offensive numbers also helped Boley get voted First-Team all-state for the second consecutive year as well as garnering the same honors in the Western Buckeye League.
The senior catcher also improved his defensive game in the off season, and credited his success this year to that off season workout routine, as well as to his teammates.
"My teammates made me look good, you have to have teammates and a good supporting cast around you," Sean Boley said.
Boley will also go down with a number of career marks at Celina, including the top mark for a career batting average at .425 and slugging percentage of .698.
"Right now it's not really that big of a deal, it's just a record," Sean Boley said. "They're meant to be broke, and if later on down the road someone breaks it that's awesome for them. It will probably mean more when I get older and I look back on my high school career to see all my accomplishments."
The Bulldogs top offensive threat will also finish in the top 10 in a number of other season and career categories.
His 46 hits last season are second best all-time, and he finished in the top 10 for career hits and runs scored.
He finished third in career doubles with 25 and his 81 total bases last season was the second best for a season.
Boley now hopes to take that career best season to the college level where when he plays Division I baseball next year at Toledo.
"I wanted to play football, but that didn't work out and going to Toledo and having my two brothers up there, along with Dustin Sommer from Minster and I'm pretty sure the (Steve) Wenning kid from Coldwater will be there too," Sean Boley said. "It will be nice to have this area represented in Division I. It's going to be a real good experience for me and I'm really looking forward to it right now."
"He worked hard in the off season to get to this point, but at the next level he'll have to work just as hard if not harder to compete and be successful there," Bruce Boley said. "I don't doubt he will, he's a hard working young man and there's no guarantees because everyone there is the best kid off there high school team, but I think he'll go in with the attitude that he wants to compete and what can I do to help the team win."
Phone: (419)586-2371, Fax: (419)586-6271
All content copyright 2004
The Standard Printing Company
P.O. Box 140, Celina, OH 45822