By Margie Wuebker
mwuebker@dailystandard.com
ROCKFORD -- Fire destroyed a modular home and garage along Tama Road on Monday night filling the night sky with a bright glow.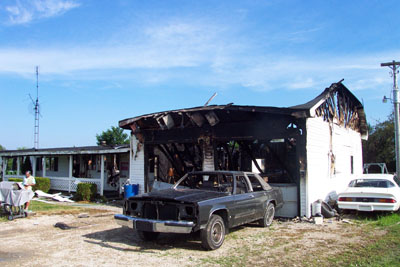 Firefighters from three departments responded to the home of Brandy Vanover and Damien Kroft, 3160 Tama Road, at 11:15 p.m. after a neighbor spotted flames.
"The garage on the west end was completely involved when we pulled in," Rockford Fire Chief Ralph Rhoades told The Daily Standard. "The roof caved in just then sending up a shower of sparks."
Firefighters tried repeatedly to enter the modular home fearing the residents were inside. Heat and flames immediately drove them back.
Rhoades said firefighters were relieved when Kroft came home and reported no one was inside. Vanover, who is employed at the Laurels of Shane Hill, left work around 10:45 p.m. and headed to her mother's house instead of going home.
"I needed to do homework on her computer," the Rhodes College nursing student said. "The homework didn't get done after I received a telephone call."
Vanover felt sick as she approached her home of the past 15 months.
"I'm in the process of buying it from my aunt and uncle (Madonna and Melvin Chaney)," she said. "The flames ended up taking everything we own."
Kroft lost a derby car parked inside the garage. He had planned to enter the car at a Paulding competition Tuesday night. The car repair enthusiast also lost a number of engines and related parts.
Vanover, who is five months pregnant, had started buying baby items hoping to have the nursery ready by late November. Nothing escaped the fire and 6-year-old Zackariah Kroft lost all his toys except for a Big Wheel parked outside on the lawn.
"There are so many things our insurance can't replace," she added. "I can accept the loss of clothing, furniture and other belongings. However, there is no way to replace items from my dad's funeral."
Bill Vanover died Jan. 29 of heart problems at the age of 55. Flames devoured decorative throws sent to the funeral home as well as photographs she hoped to share one day with her unborn child.
Vanover left the scene around 4:30 a.m. after firefighters headed back to their stations. Family and friends planned to return later that morning to remove items from the master bedroom that escaped the fire's wrath.
Flames rekindled and quickly spread to the bedroom at 8 a.m. Tuesday. Another rekindle that evening erased hopes of salvaging anything from the garage area.
"My boyfriend went out there and fell through the floor," Vanover said. "Luckily, he wasn't hurt."
Family members managed to retrieve insurance and mortgage papers from a filing cabinet. The paperwork remains helpful despite its charred edges and soggy condition.
The Vanover-Kroft family is staying at a local motel. They will be meeting with insurance representatives later today.
"There are 6.78 acres out there and we hope to rebuild," Vanover said. "The country is a good place to raise kids."
Rhoades said six fire trucks and 24 firefighters responded to the initial call. He estimated the loss in excess of $75,000. The blaze apparently started in the garage but an investigation to pinpoint the exact cause continues.
Phone: (419)586-2371, Fax: (419)586-6271
All content copyright 2004
The Standard Printing Company
P.O. Box 140, Celina, OH 45822