By Gary R. Rasberry
grasberry@dailystandard.com
Can a player be even more dominant than Dana Hartings was in 2003?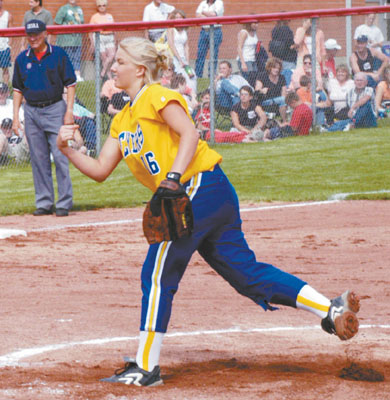 The Marion Local pitcher earned the 2003 Daily Standard Dream Team Softball Player of the Year award after striking out 212 batters and finishing with an earned run average of 0.88.
So, what could she do for an encore for her senior season?
Lower her ERA by a quarter, add over 100 more strikeouts and go to the state final four.
Hartings becomes the first softball player to win The Daily Standard's Softball Player of the Year for the second year in a row with a season that boggled the mind and will force recordkeepers to do some editing. "She's the type of player every coach dreams of having," said Marion Local coach Gary Moeder. "You know she's going to do the extra work on her own. She's going to do whatever it takes to help the team win. When she steps on the field, it's all business. When it comes to making the plays, she'll give 120 percent. You knew that as long as you had Dana, you were going to be in the game."
Hartings said that she did not make changes on the season, other than working a little bit harder.
"I just continued to work," said Hartings. "You just want to get better, put the pitches where you want, throw more junk and have more movement on the ball. I just kept working on what I had been working on."
Hartings finished the year 16-8 for the Flyers, with several losses coming on unearned runs. What Hartings gave up earned were few and far between, allowing just 15 earned runs in 174 innings for an ERA of 0.60. Eight of her wins were shutouts.
Then there are the strikeouts.
Hartings twice had 20 strikeouts this season, both totals coming in conference games against New Bremen and Versailles. On the season, Hartings struck out 335 batters, an average of 12.88 per game.
Hartings kept opposing players off the basepaths, allowing 76 hits and walking just 25 batters -- meaning for every walk she struck out 13.4 batters -- for a remarkable WHIP (walks and hits per innings pitched) of 0.58.
The bat was just as mighty as the arm for Hartings. The senior led the team with a .474 batting average with eight doubles and four triples. Hartings had an outstanding .671 on-base percentage to go along with a .679 slugging percentage.
Hartings had to go through changes again this season. Deb Kremer, who took over the team last season after the sudden death of Buck Imwalle, stepped down after guiding the Flyers to a second straight claim on the MAC title. Moeder, a former assistant coach for Craig Griesdorn at New Bremen, took over the program.
The Flyers had struggles early as the offense looked to get started, losing some games early due in part to a lack of consistent offense. Hartings was occasionaly at the wrong end of one-run losses.
"Of course, it's frustrating to lose by one," said Hartings. "It's something you don't want to do. The beginning of the season was a little rocky, but as we continued to progress as a team, we started putting a couple more runs on the board and holding the other team to less than what we had."
The Flyers got their spark as soon as tournament time started, picking up big wins and getting out of districts for the first time ever. Two big wins at regionals gave the softball program its first trip to state in school history.
Although the Flyers lost to Crestline in the state semis, Hartings continued to earn honors, becoming the first three-time MAC Player of the Year in softball and was the only Grand Lake player to earn All-Ohio honors.
"I can't even explain how it felt to be at state. My nerves were going all the way. I was nervous before we got there and the whole run," said Hartings. "When we were on the tournament run, I realized how great my teammates were and formed more friendships as the season went on. We just kept coming together more and the wins kept piling on. I couldn't have asked for a better way to go out.
Hartings' season and career earned her spots in the unofficial state record book. Her 20 strikeout games are second on the list for most in a game while her 335 strikeouts rank her 13th all time. Hartings' 826 career strikeouts place her 14th all-time in the state while her 28 innings without allowing a walk are good enough for 12th.
"It's defintely a good feeling to know that my numbers are ranking up there with some of those girls," said Hartings. "It makes me feel that the hard work paid off."
Hartings now heads to Clarion College in Pennsylvania to continue her career, where she hopes to make an immediate impact.
"Of course I want to play and I want to be successful," said Hartings. "I know it's a different level of play. I will probably set too high of expectations for myself, but it's better to expect more than to expect less. The coach has expectations too. She's bringing in two freshman pitchers and I hope to be successful on the college level."
Her high school coach has a feeling that will happen.
"I've told her that she'll be a better college pitcher than a high school pitcher," said Moeder. "I've watched what she can do from a college mound, which is three feet back. It's unbelievable how her ball can move."